Historic Frederick Candlelight House Tour 2015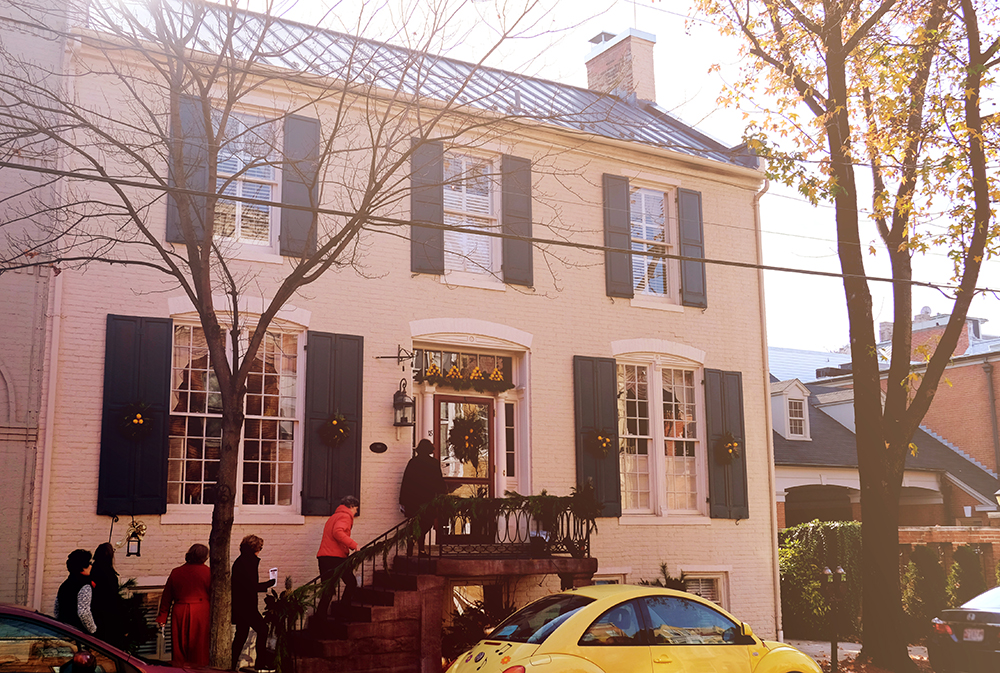 We awoke to a glorious downtown Frederick morning excited to get inside the homes listed on this year's Historic Frederick Candlelight House Tour 2015! My husband is a professional musician and since Friday & Saturdays are gig nights, we waited till Sunday to join the tour. Saturday's event had been held 5 – 9 PM and the "candlelight" was provided by a large hanging lantern near the entrance of each home. Numerous mason jars filled with battery operated tea lights lined the edges of walkways.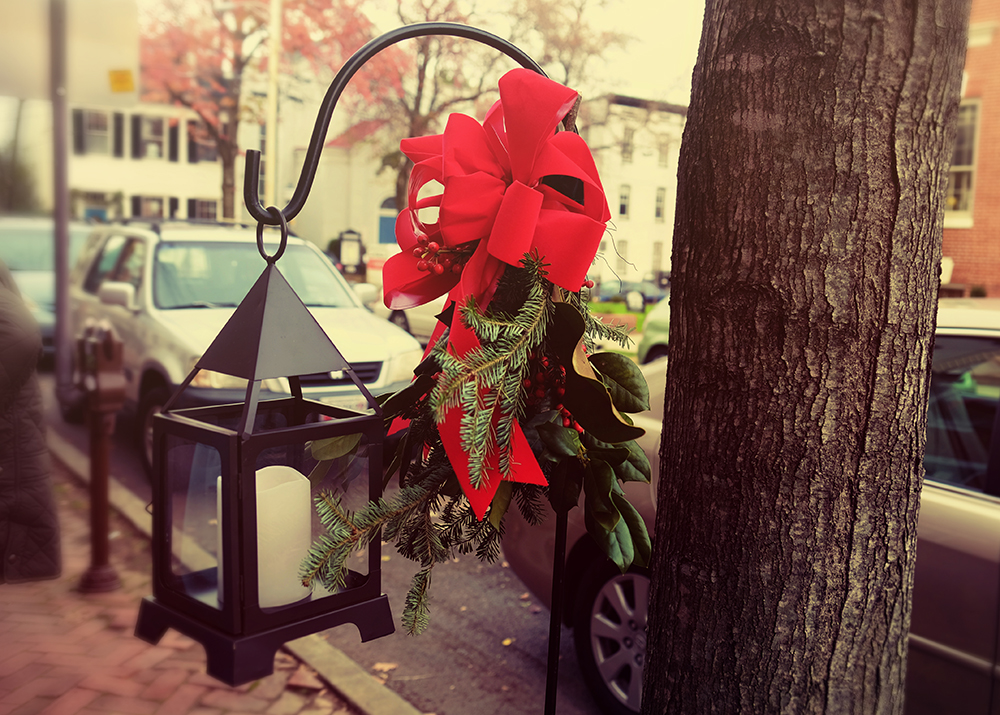 Our Sunday tour began at noon and there was no candlelight to be seen during this absolutely perfect day. We passed small groups and couples on various downtown streets carrying their 2015 Frederick Candlelight House Tour brochures. Today's excellent weather was most certainly a big influence on the large number of people participating. Who would not want to see inside these beautiful historic homes? I want to go into all of the mysterious Frederick homes! This event is such a great opportunity! Unfortunately for you there are no photos allowed inside the homes. Which means my photos today are of various exterior spaces which include the back yard spaces we can never see from the street. I hope if you have yet to take the Celebrate Frederick Candlelight House Tour over the holidays that this post may inspire you to do so next year!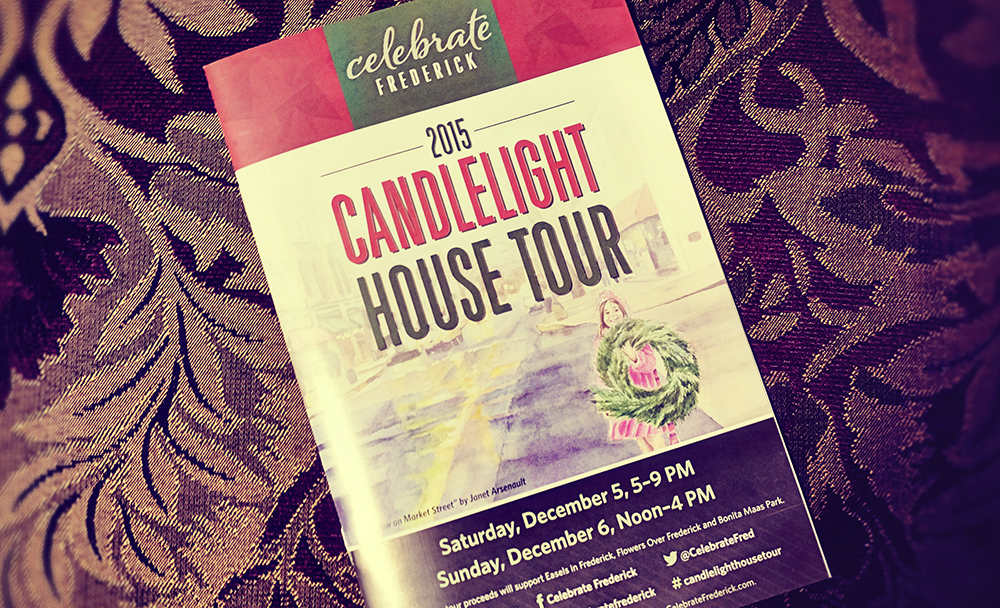 Seven years ago while residing in a different Maryland town, our historic rental home was part of a 'Holiday House Tour' too! Having been through this type of event ourselves we appreciate today's home owners allowing us inside their private world. We acknowledge the organization 'Celebrate Frederick' for providing the planning needed to put it all together too. During our own experience we had 3 volunteer docents helping the public tour our beloved Christmas cottage. Therefore the volunteers must be thanked for providing their time as well. We are grateful to Mother Nature for her cooperation today. There could have been a blizzard the week before the home tour as happened to us!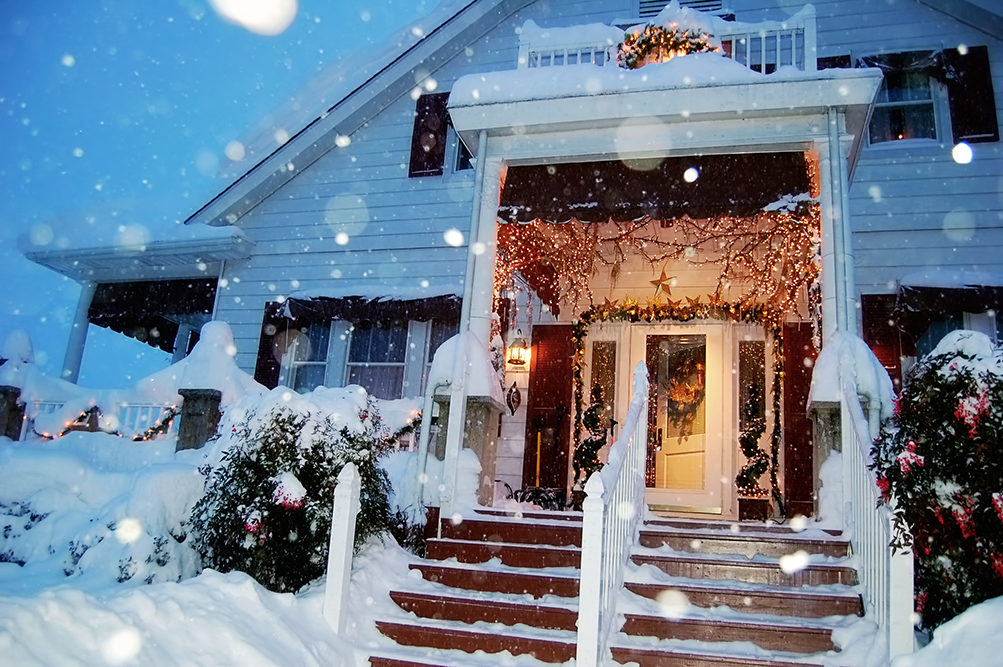 Decorating our enchanting 1910 home was an enterprise that I thoroughly enjoyed. I suppose when you are born on Christmas Day and get engaged after watching "It's A Wonderful Life!" at the stroke of midnight on Christmas Eve it's only natural that you really get into this stuff! So let's get this festive party started and hit the streets of sunny Fredlandia!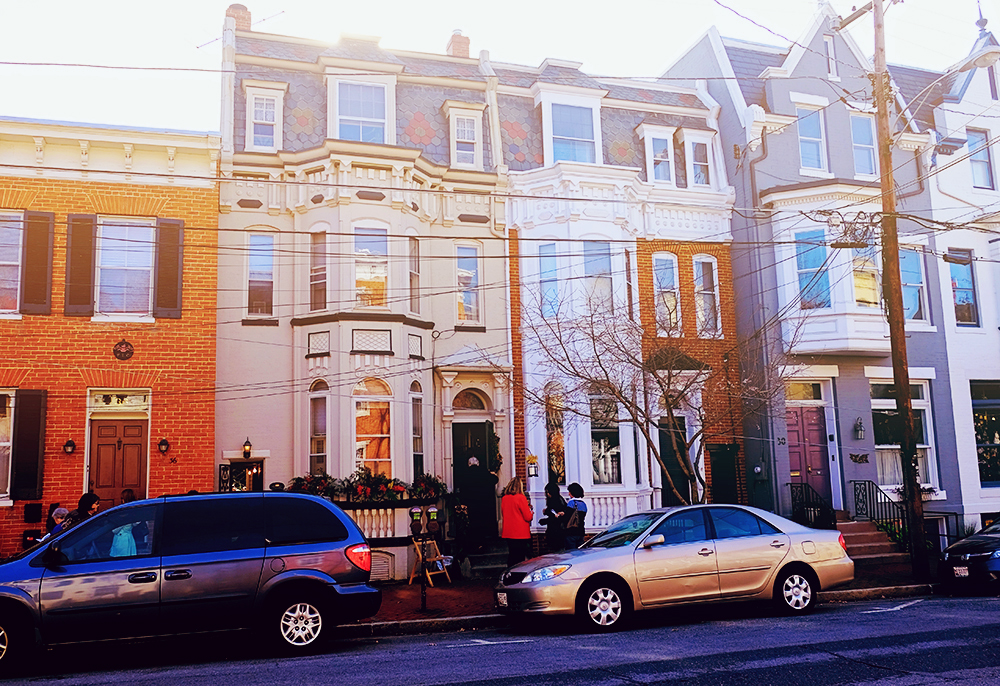 We drove to Third Street to begin our self guided Frederick Candlelight House Tour and found a great parking spot which would allow us to walk to the next couple of homes. First up was this jewel box Victorian. We had admired this slender 1887 gem many times as we casually walked the neighborhood. I adore the multitude of details across the facade. Check out the variety of shapes surrounding the grand entrance below. It was so fun to get a peek at the inside of this home! Since this is one sweet house I wished we could have seen all of it! Drawn to historic architecture, I find modern homes to be plain, boring, and sterile. They don't seem to be interested in the beauty, craftsmanship, and detail of the past.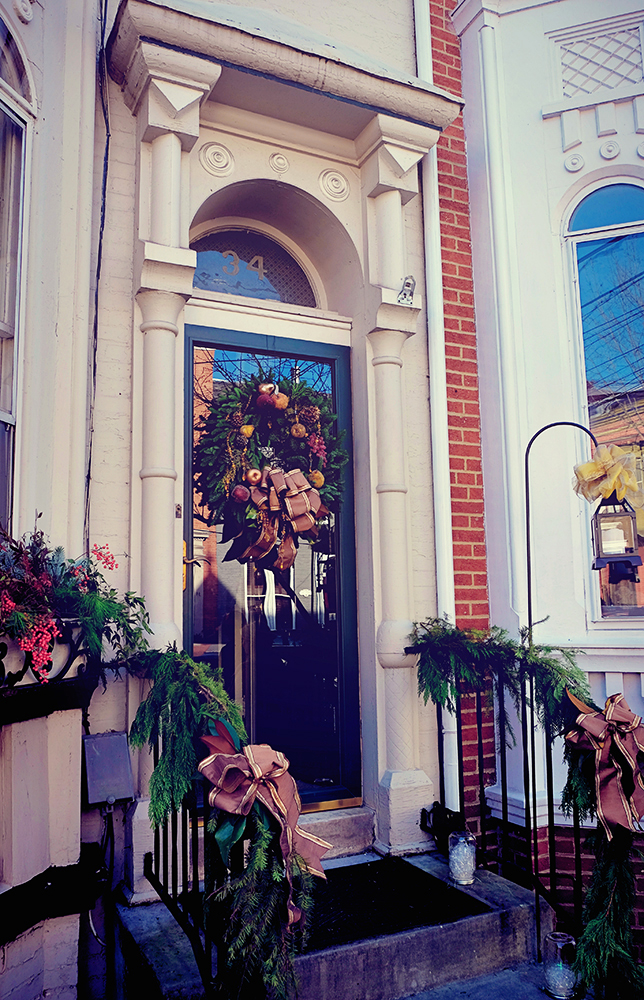 I so appreciate those homeowners who restore older homes back to their glory days. I know it is a labor of love for them. The gorgeous greens and berries that adorned the front bay window boxes and the front door of this Third Street home were lusciously created by Kallmyer's Custom Florals.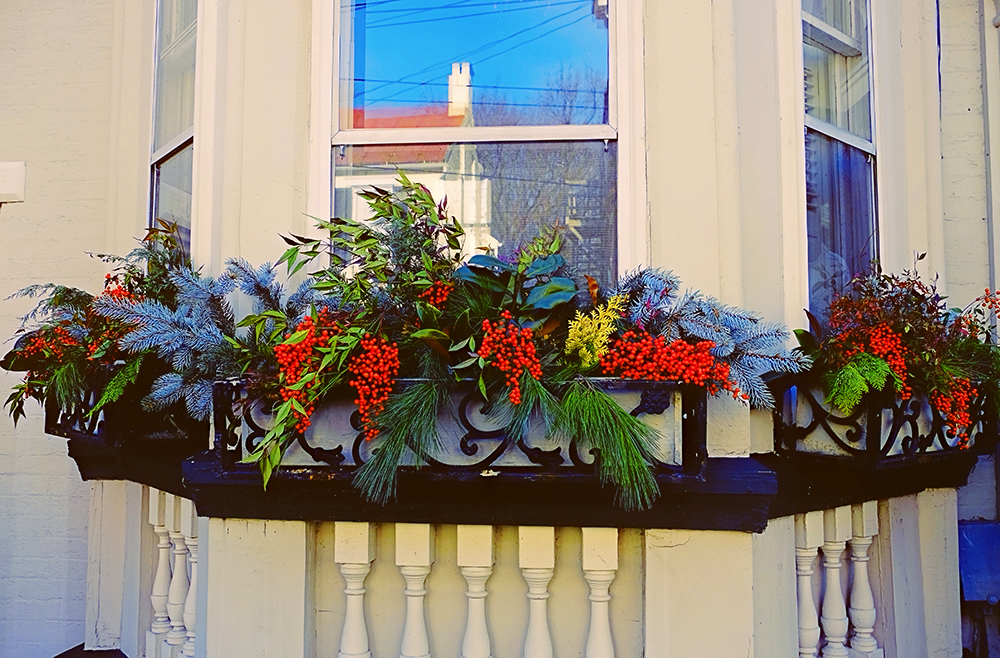 We walked out of the homes's updated kitchen down onto a side patio. The back yard area stretched out into a long narrow fenced space. Through a slim alleyway we made our way back to the street. Many historic downtown Frederick homes have these narrow alleyways in order to bring trash cans and recycling forward to the curb. As we left this home we noticed in addition to the standard alleyway wooden door this home had a beautiful ironwork gate which was also nicely decorated for the season.
I might mention at this time that I am using a light weight purple paisley cane to get around since my broken leg injury. My current walking condition made me doubly thankful for the fantastic weather! I had no trouble navigating any of the homes on the tour or the old bumpy sidewalks. Walking through a narrow road between other downtown homes we headed towards Second Street. Onward to the classic large 1845 home you see at the very top of this post. The owner lives in the front of the house and allowed everyone to tour the second floor as well. The location of this Frederick Candlelight House Tour home provides a great view of church spires from their rear garden.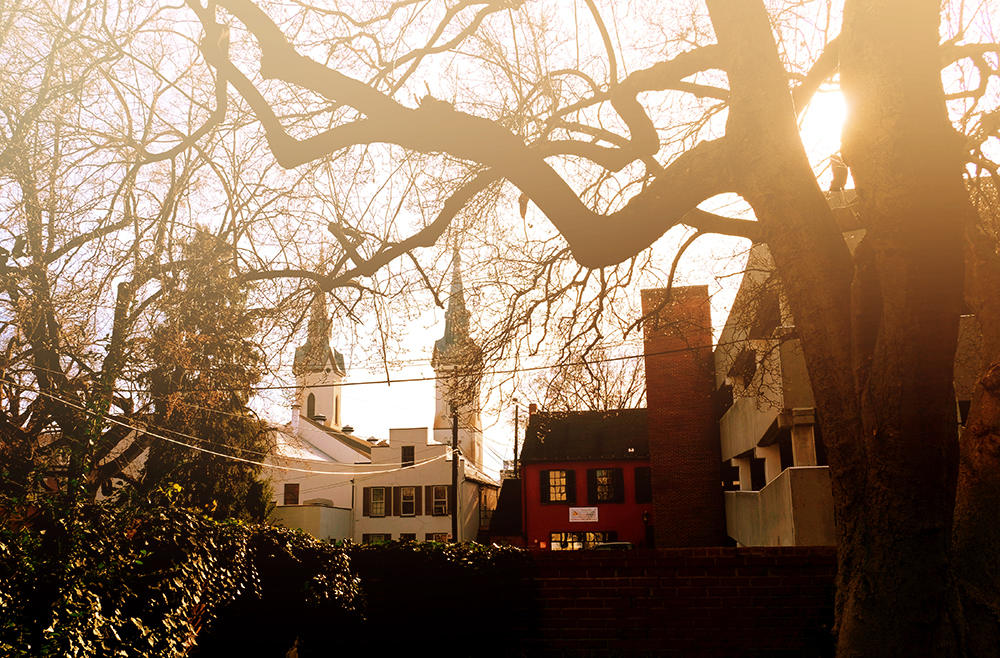 The house surprisingly goes back to a large south wing which houses two apartments looking out to a lovely courtyard. You would never see this from the front unless you went on the house tour, or were fortunate enough to live in the apartments. The gracious owner greeted us out in her beautiful backyard area. Seeing that I was using a cane she thoughtfully invited me to sit and rest awhile under a large tulip tree. Below you can see a bit of the rear of the home which has a long length of traditional sleeping porches on the second floor. There are many cozy spots to sit and enjoy while in this backyard sanctuary.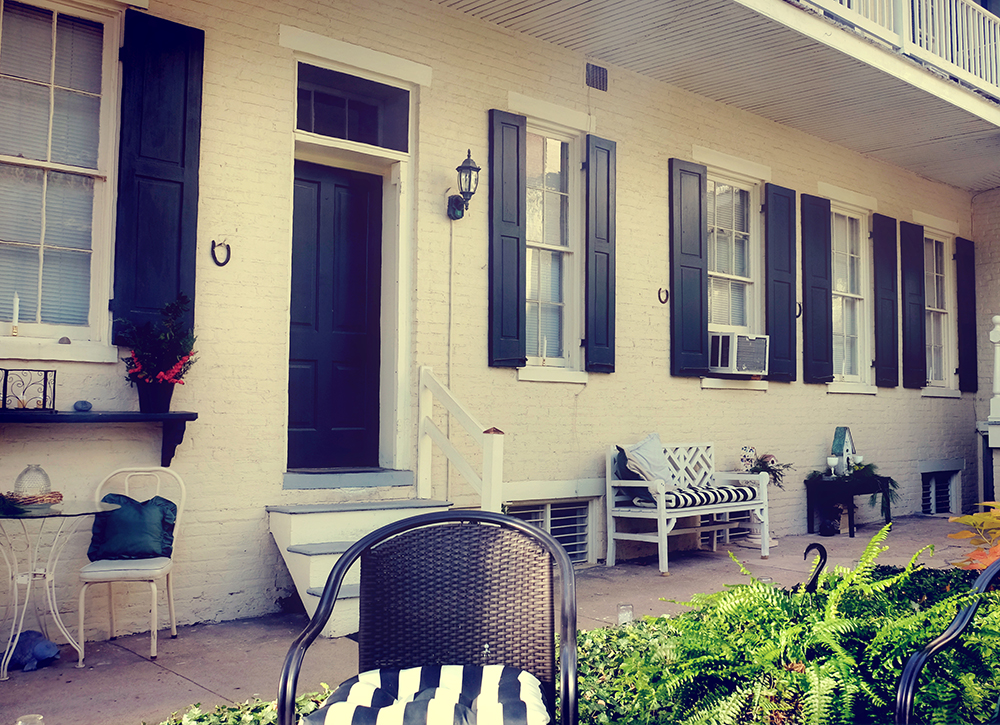 The Green-Walled Garden Club decorated this home for the holidays. They added their special touch to the creative front entrance and to many areas in the courtyard architecture as viewed below.
We continued down East Second Street to our next destination… a historic home constructed in 1850 or 1864.The exterior is classically painted and had wreathes festooned on every window. Some brave soul had to get up to those upper floor windows to complete this unifying look! The interior of the home was an eclectic mix of modern with antiques. A very comfortable shabby chic vibe. We call the owners party people, as there were two areas devoted to mixing drinks or serving wine. We assumed they must entertain a lot!
The owners did their own holiday decor. The vignette below of gathered finds is as you exit the home to the back garden courtyard area. The pop of chartreuse on the door is reflected again on the chair cushions you will see in the patio photo.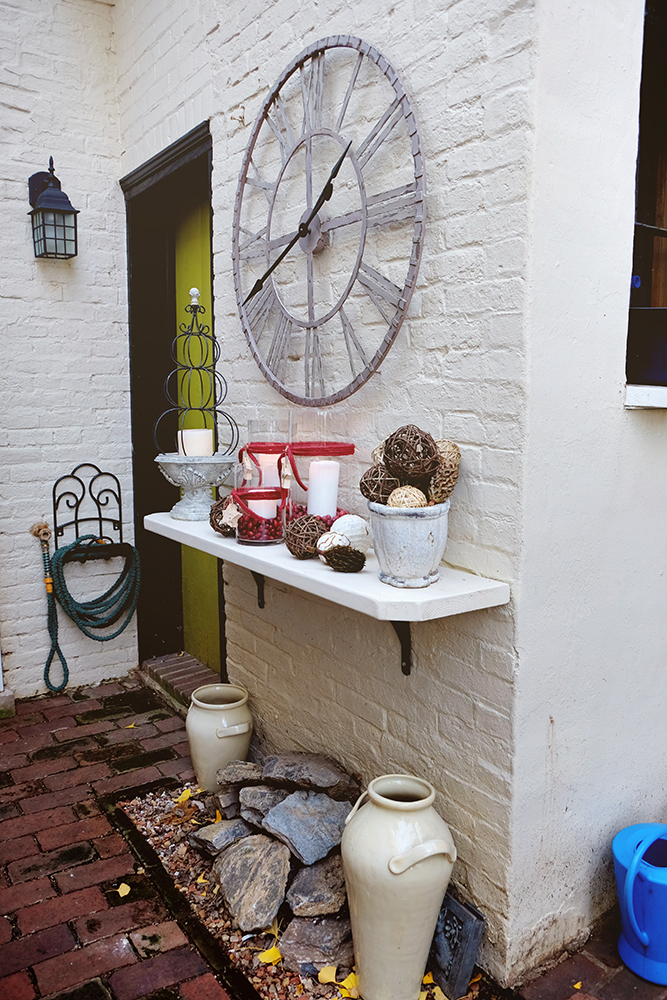 The couple has updated their home with a modern kitchen and family room that overlooks this wonderful green space bringing in the outside. A live lighted Christmas tree is the main centerpiece of their outdoor dining space. Alongside of the home there is seating for a glowing fire pit. This large back yard is a private space perfect for a city living getaway!
We then strolled over to Church Street past the festive lights of East Street's Shab Row. Along the way we spied 'Glory Doughnuts' just as they were closing! Hey! We are just in time for the end of the day special! A few vegan donuts to go please!
When approaching the early colonial home of our destination we noticed a very long line forming. We waited for about 15 minutes as they allowed small groups of guests into this charming diminutive home. Some people left not wanting to wait. They moved on to the other tour houses missing out on a very special home. Certainly worth the wait, this home that was built in the late 1700's is a registered Frederick landmark. Everyone was greeted at the door by a classic iron urn decorated to perfection by the owner. Love the color they painted the exterior brick too. Just inside was a fascinating 1820 Empire sofa with hairy paw feet. The circular wooden arms of the sofa concealed secret drawers for hiding your valuables. What a great place for a pair of those reading glasses I now have all over the house! Since the wall between the dining room and living room had been removed the small space felt roomier. The walls in the home were filled with the talented owner's artwork.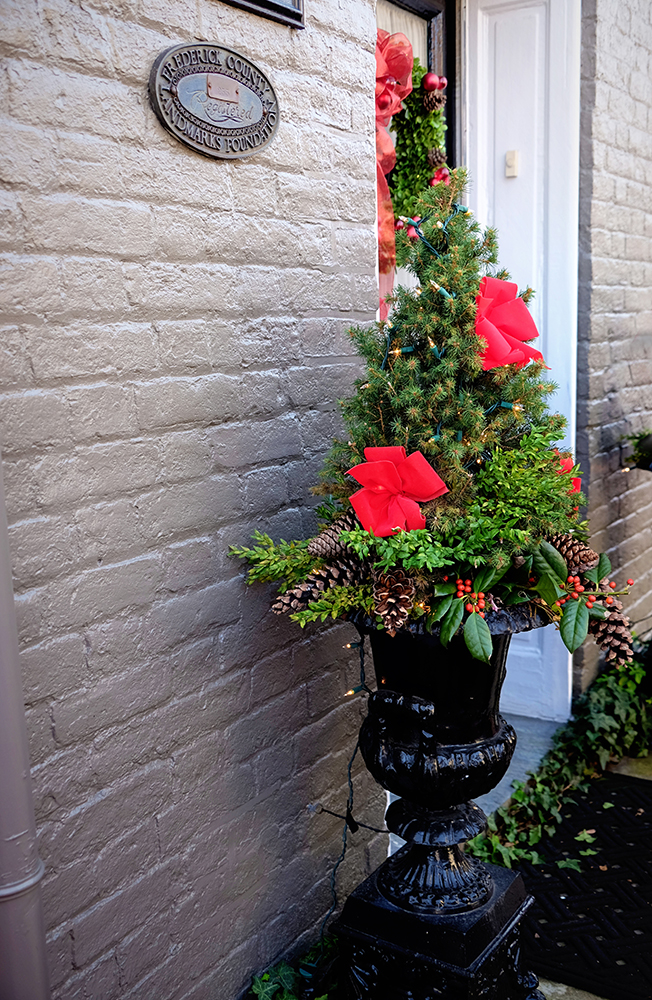 The space between the house and the former separate summer kitchen has been filled in by a relaxing den connecting the two areas. Even though their kitchen has been completely renovated with modern appliances and granite counter-tops, the small space with its low beams still feels historic. As you step down to the left you enter a sliding glass walled office/studio space that takes in the view of the backyard greenery in all directions. The outdoor courtyard of this home is amazing! Shaped topiary line the brick walls and an unusual glass roofed loggia lets in light as it protects you from the elements. Brilliant!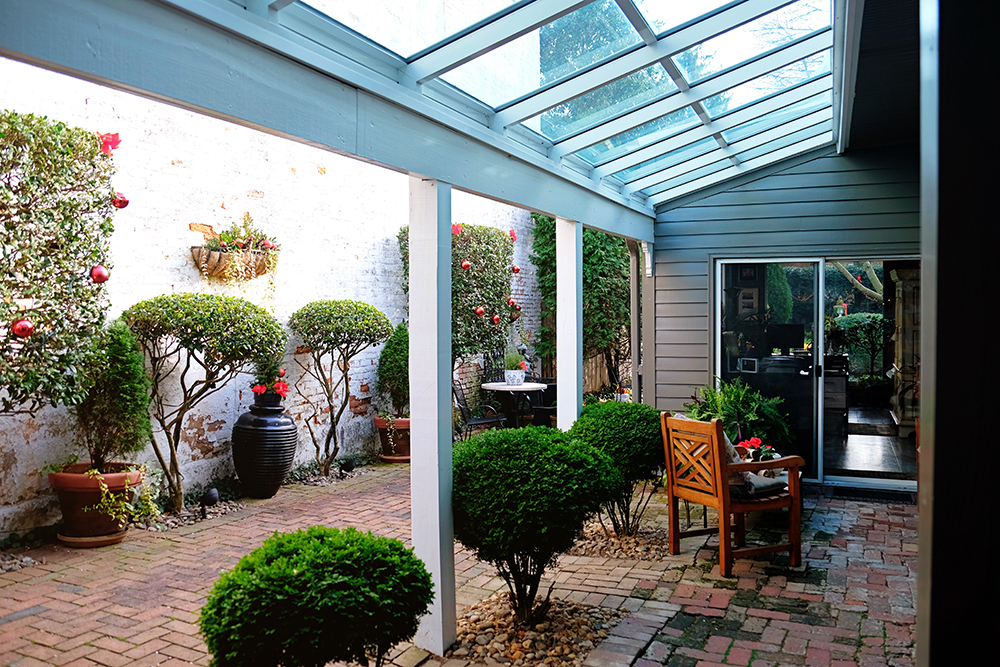 There is an exquisite European flavor to this very private setting covered with mossy weathered brick landscaping. Evident again with this glorious fountain just outside of the couple's office studio. I can only imagine what it must be like to sit out there during a soft rain. You could be transported into a soothing calm world living among this serene space. Can I stay here?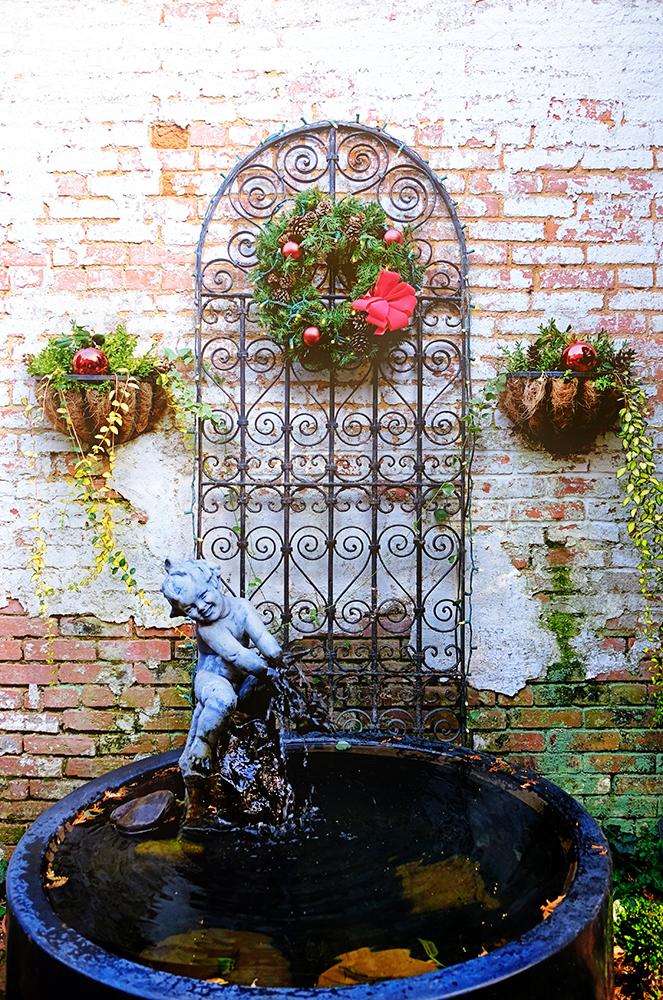 This is definitely an outdoor space I did not want to leave. Alas since we must… how about passing through this pair of snazzy iron griffins! What??? I'm in love! They are the coolest!
We drove up to Rockwell Terrace to tour two more homes. This neighborhood has an enclave of outstanding period homes that each possess their own magnificent appeal. Very much looking forward to viewing the interiors of such homes we began with the 1910 Neoclassical brick four square with the Doric column porch.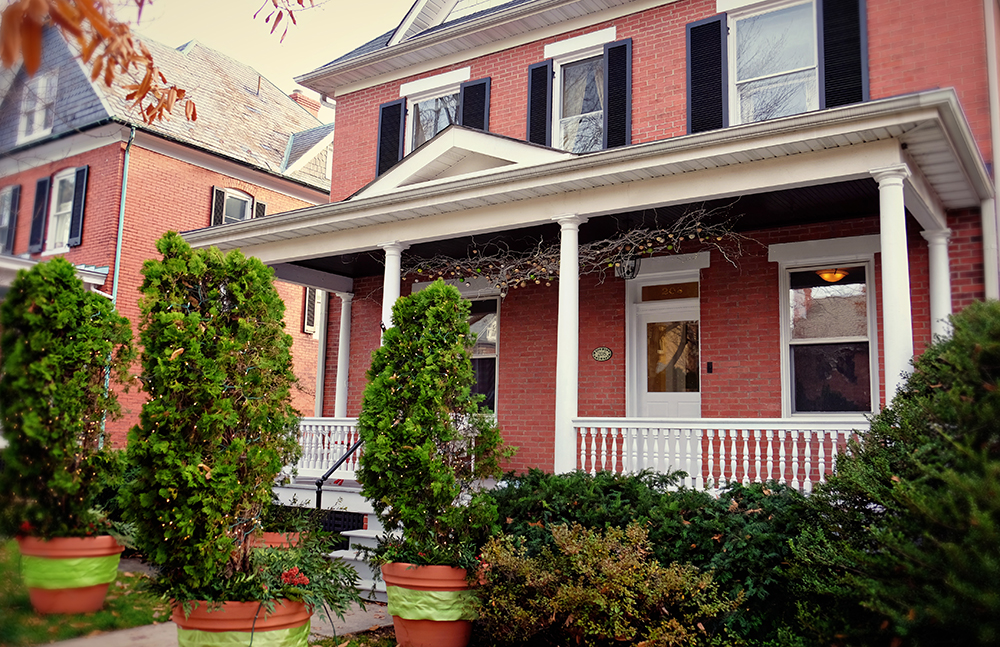 Approaching the home I was reminded of the decor I did for our 'Holiday Home Tour House' that you saw in the snowy photo up above. Reusing lighted branches from our wedding created a sparkling fantasy arbor to the entrance which held twinkling lights, icicles, and clear iridescent ball ornaments. Today's tour home had a very lengthy white branch art piece covered in modern wire LED lights that stretched out overhead making a dramatic statement in gold and green ornaments. Loved it!
Inside…. we looked at a Dali print, a paper cathedral and a tree filled with home style ornaments. The large bay window area of the dining room had tall tree branches lined up like holiday soldiers. A TV room had a funky retro white tree covered in playing cards. Our favorite room by far was the cozy kitchen they made from reclaimed pine paneling, vintage looking cabinets, and an old style hearth fireplace! Wow! Can I set a spell and have a cup of tea or hot chocolate? When exiting the delightfully warm and comfy kitchen we were surprised to see this marvelous inventive bubbly champagne bottle hanging from the back porch!
The table in the yard held a distinctive holiday display filled with blue spruce and golden branches. All the decor work was completed by the design firm of Jones & Eberhardt.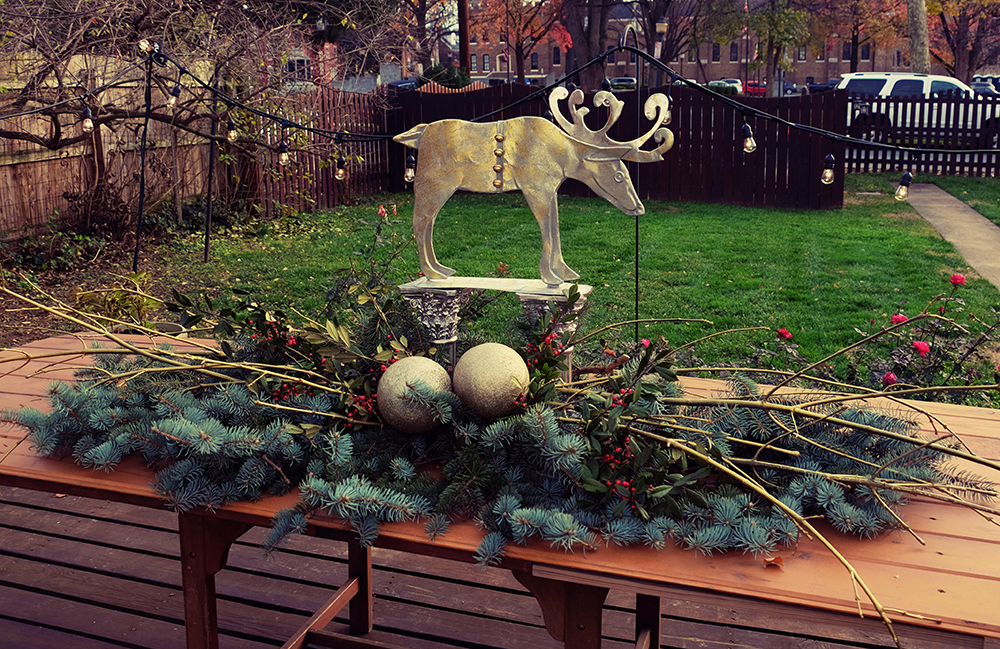 Walking across the street to the next home I had that feeling of familiarity once again. The steps rose up to a deep Doric column lined porch roomy enough for wicker table and chairs. So reminiscent of our beloved old wrap-around porch and furniture. Notice the brickwork detail of alternating light and dark shades.
I immediately took notice of the double set of double doors for the entrance! Heaven for furniture moving! Walking into the foyer we viewed a classic staircase and stained glass window. Mostly filled with antiques there is always something of interest to look upon in this charming 1905 home. Formerly converted into two apartments the current owner needed to completely renovate the home in order to make it a livable single family home. The room I think everyone will remember is the kitchen with a gigantic square island, covered in marble, built by her brother. I wondered about the team of people needed to set that in place! On one side is a table fit for a Queen and in a nearby arched nook is a Lachanche range. Truly breathtaking. Exiting from the kitchen onto a tiny porch I noticed this exterior door with a rustic bark and berry wreath.
We drove the car to view a home on Record Street next. Parking was easy to find alongside the City Hall grounds. It was getting near to the end of the tour hours and we were concerned that we could not fit the rest of the homes in the time allotted for the day.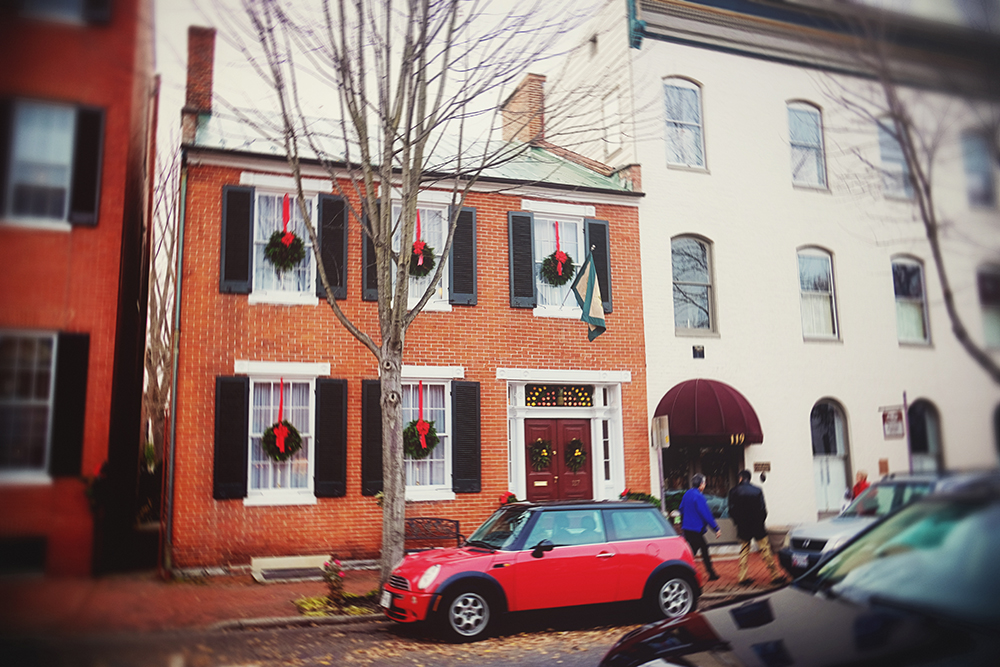 Making our way to the nearby home we discovered another line of tour guests waiting to get inside. It was just about ten minutes to wait while two groups of a dozen people went in before us. The most remarkable detail of this carefully restored home is the foyer staircase which turns in long ovals all the way to the third floor. Wait…. Looking at the exterior of this home you will see there is no third floor. A visual trick it wraps up into the attic thus creating the illusion of a third floor. As you stand below looking up into the circling ovals it is truly a beautiful piece of architecture. The farthest ceiling fixture's light radiates out into sparkling shadow designs. The 'Men's Garden Club' draped the staircase in about 90 feet of hand made garland greenery which included dried lily pods. The pods came from the lovely Carroll Creek display of lilies that they are also in part responsible for helping to set up. The staircase walls were hung with classic antique photos and family portraits
In one of the double parlors a pianist from 'Piano Works' played a baby grand. The back parlor with its large collection of nutcrackers had a unusual door called a jib. Older homes had these 2 piece dutch style doors installed so that coffins could be brought into the home to discretely remove the deceased. Both rooms had regal marble fireplaces with graceful decorative fire backs. This 1825 home which seemed much larger on the inside won the owners the 2012 City of Frederick Preservation Award.
Time was running out so we decided to take advantage of the light refreshments and restrooms at City Hall. I sat taking a rest sipping hot apple cider near the decorated tree seen above. My legs were grateful. A few minutes till four City Hall was cleaning up for the day. Sadly we realized that we would not make it to the Motter Avenue home. We might make it to Creekside House, a local Bn'B on the house tour, if we hurried.
Closing up shop they still invited me inside. Hubby followed, they closed the door, and we quickly chatted with Carolyn the owner. We had met before when we were looking to rent in downtown. Ultimately the home was too small for all of our stuff. There are actually two similar homes. One is a rental property, and the other is a Bn'B that can be rented for long or short term. Tiny home life is very trendy right now and this 1860 dwelling is certainly one of the original tiny homes. I had been thoroughly impressed with Carolyn's kindness and skill at decorating such a petite home. I plan on doing a piece about the inside of the Bn'B with photos in the near future. Be sure to look out for that post and see how she handles making small spaces work for modern life.
The shared courtyard Carolyn created between the two sister homes contains seating areas, a waterfall, and a resplendent angel. You can walk right out onto Carroll Creek from this dreamy space. The Christmas decorations are by Michael McCrossin and Nikki Irwin.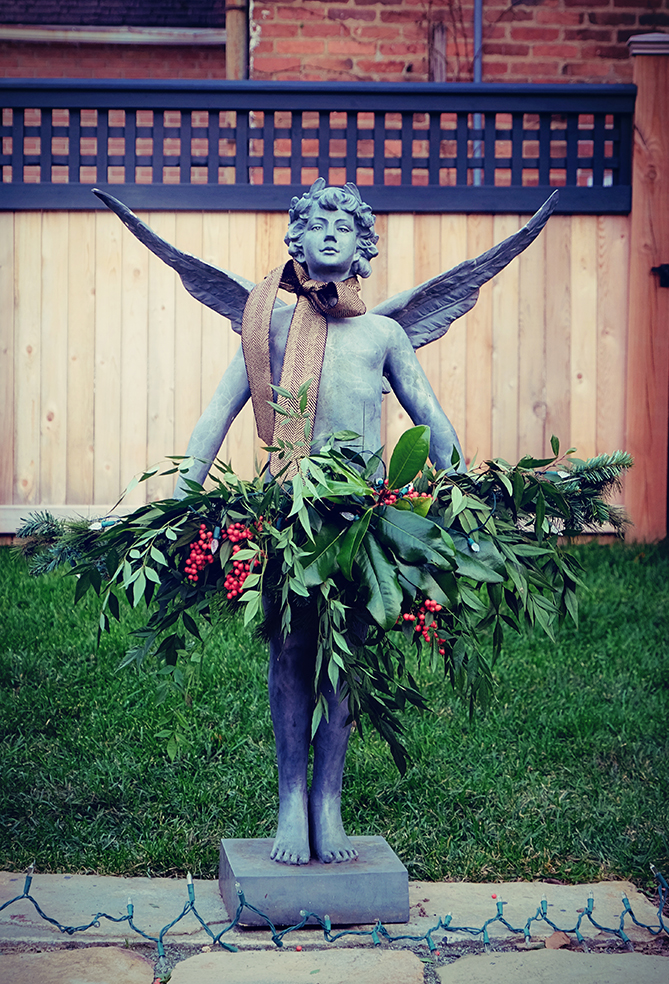 We really enjoyed our day touring historic Frederick homes during the 2015 Candlelight House Tour. Now quite hungry we drove over to dinner at Ayse Meze Lounge. My husband agreed that it was a beautiful day, filled with good weather and the historic Frederick sights we so love. Hopeful that next year 'Celebrate Frederick' adds an extra hour to the tour day so we can tour all the decorated holiday homes on the list. I would guess if not for the crowds at some of the houses that we may have made it to all the homes. Still it would have been very close to closing. Regardless we both felt everything we saw was worth the ticket price and the wait in line to get a peek behind the front doors. We did get to pass by one of the homes later that night all aglow. Much love and appreciation to the accommodating owners and their inspiring homes. Happiest of Holidays!