Roads And Rails Museum Frederick Maryland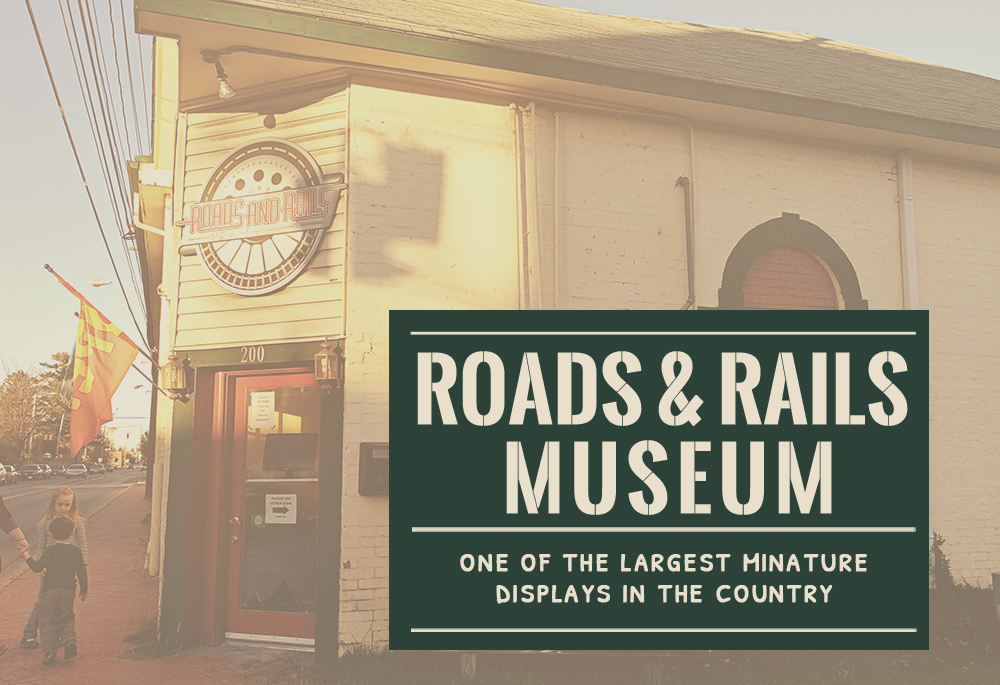 The Roads And Rails Museum in Frederick Maryland is a fun old fashioned treat for children as well as nostalgic adults. We recently took the grandchildren to this massive miniature train layout located at 200 N. East Street. Wow! Lots of time and amazing detail went into creating this display. In fact it is one of the largest miniature train layout displays in the country. If you revel in seeing the world in small scale make a point to visit this building located in the delightful Shab Row area of Fredlandia.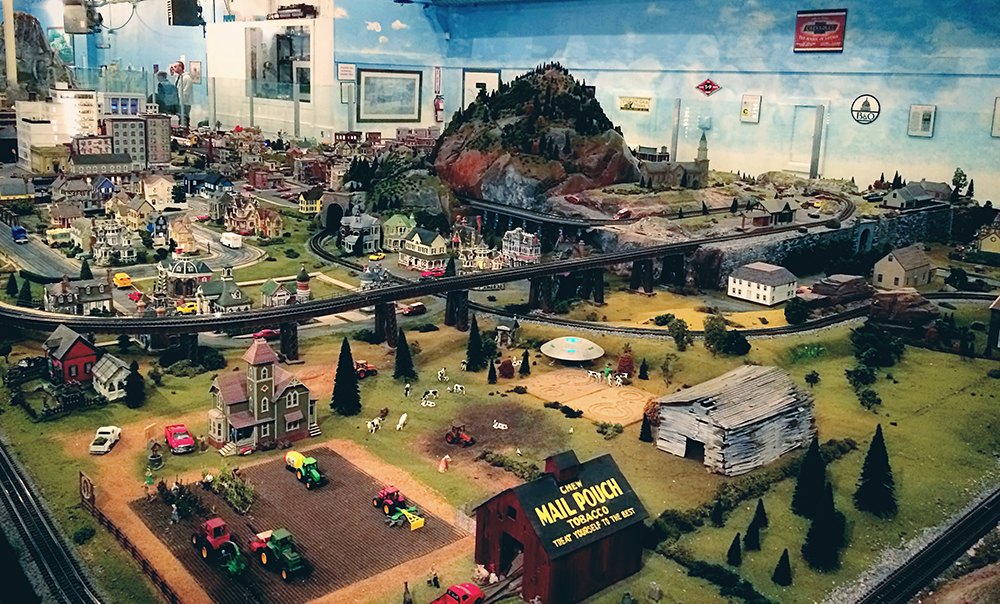 Our grandchildren who are are four and six were instantly mesmerized by this tiny land of make believe. Checking out these Lilliputian train layouts is actually an activity enjoyable for all ages. My adult daughter and I enjoyed reading the humorous signs on all of the teeny business facades. You can tell somebody was having a very good time putting this scaled-down world together! If you go to their website you will find that 'The Roads And Rails Museum' is a fantasy come true for a talented local train loving family. They have succeeded in creating something special to enjoy in downtown Frederick. Doing what you love creates magic! The little ones absolutely found some here!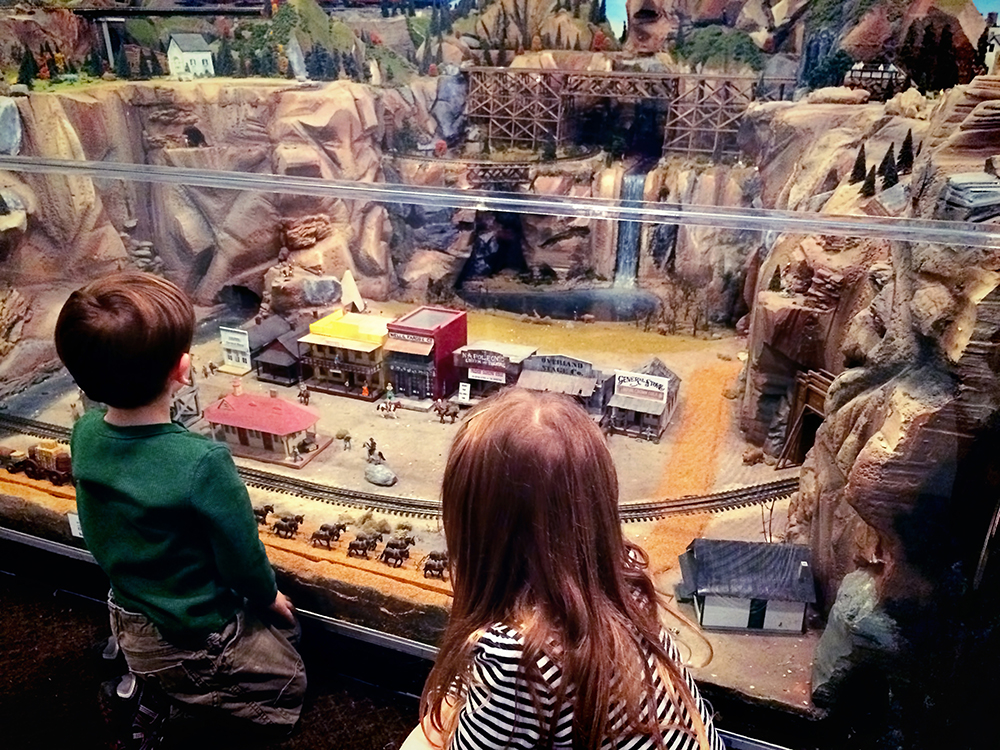 The impressive "O" gauge train layout is so huge that it took five guys five years to complete. Some of my personal favorites in the multitudes of vignette scenes they designed were the "Organic Food Store" located right next door to a pesticide laden bug exterminator, a spaceship sitting near crop circles, a retro-futuristic Jetson's style diner, and a drive in movie theater showing old style 'Godzilla' monster movies. Every scene in this miniature train layout museum is multi-layered with characters and activities set-up by very patient model railroad enthusiasts. You have to appreciate their labor of love.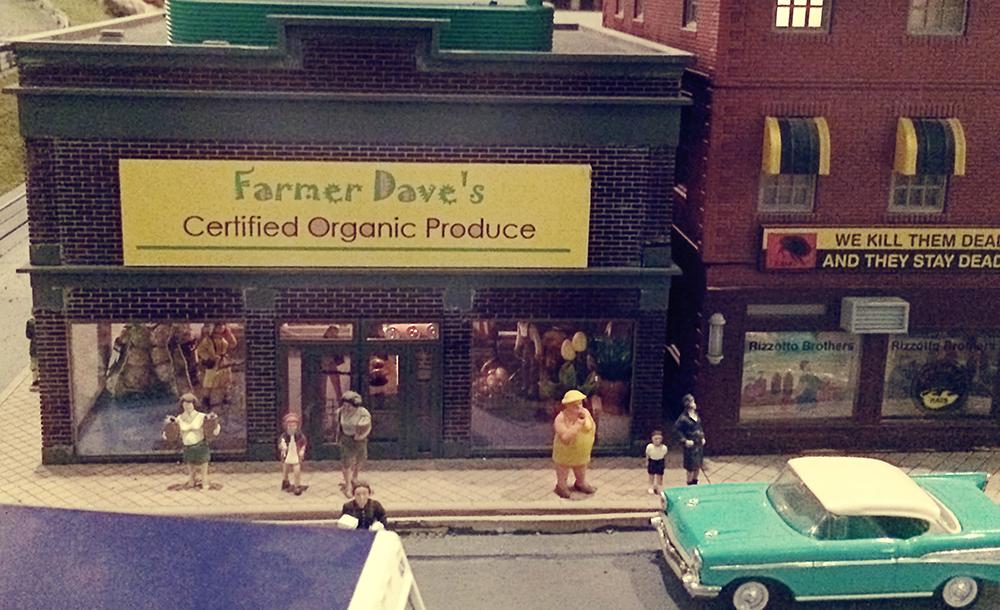 For the little kids there are lots of buttons to push so that the various small scenes become active in front of them. Step stools are provided so they can view the impressive landscape, trains, people, and buildings even better. The friendly museum staff even suggested that we adults also step up to take our photos of the room. There was so much to take in amidst this mini 'Twilight Zone' universe! Does anyone remember the train layout town episode from that old black and white television show? Eerie!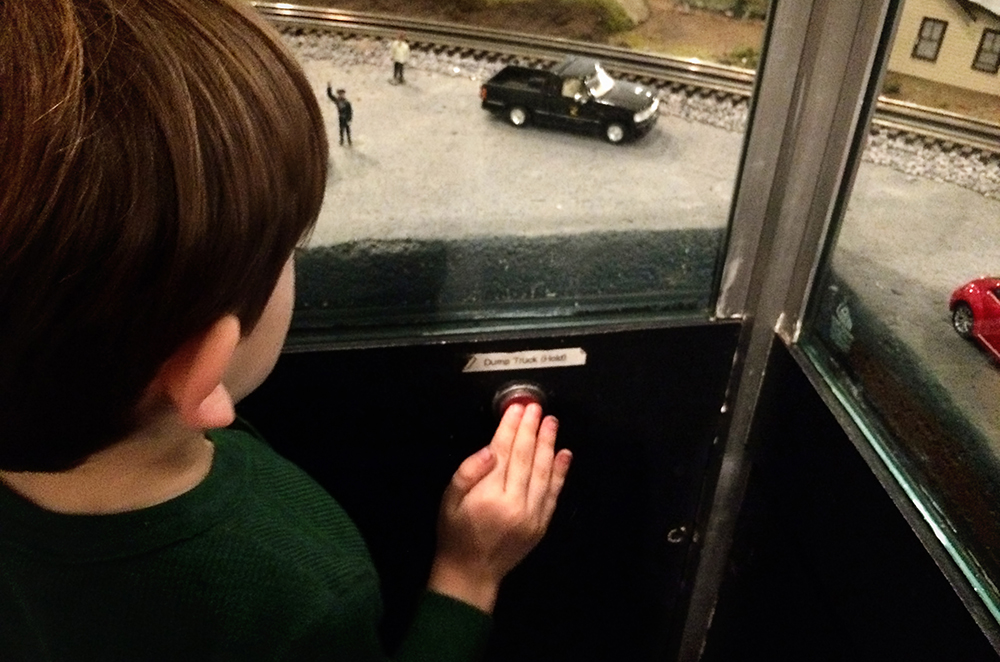 Multiple train tracks constantly run with trains of all varieties upon a mountain full of multi-level scenery. This room kept everyone's interest at every turn wondering what we would see next. The children were eager to stop and look at everything! That is saying something for kids so young too! 'Roads And Rails Museum' was obviously created to share a passion for old fashioned train layouts and it shows "big time!"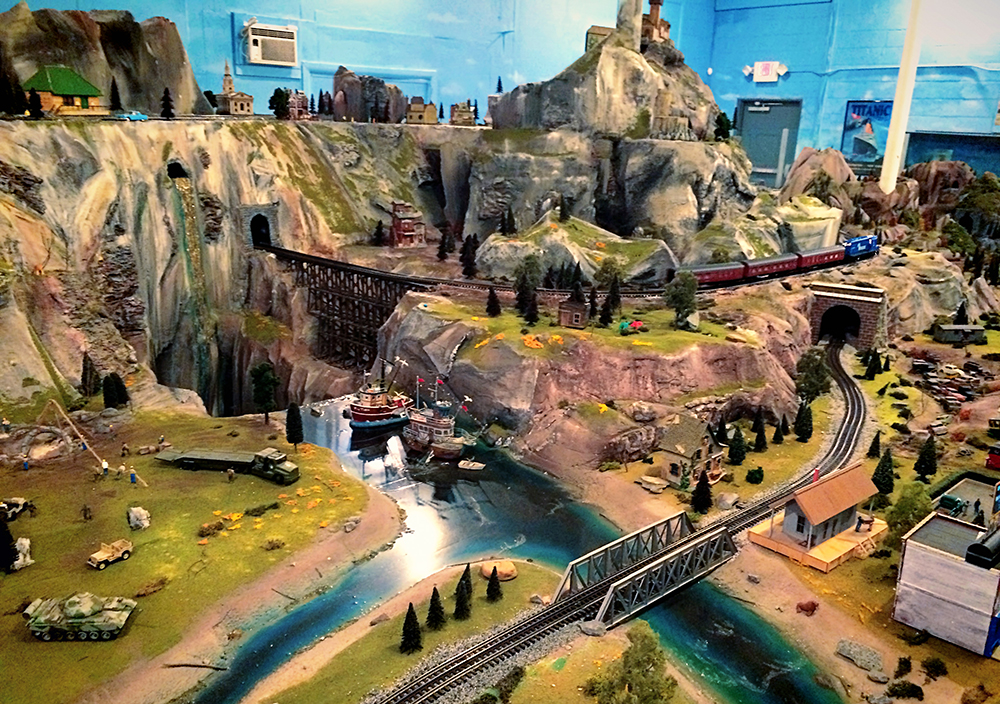 Like many of my peers I grew up with happy memories of holiday Christmas trees encircled by tiny toy trains. My father had a 4×8 plywood area set up in our basement with a layout of large Lionel trains and 1950's mid century style buildings. The staff of the Roads and Rails Museum was happy to talk about any features of the the collector trains on display. One young man was especially excited to talk to me about the rare 1937 Lionel Hudson Passenger Set seen below worth thousands of dollars.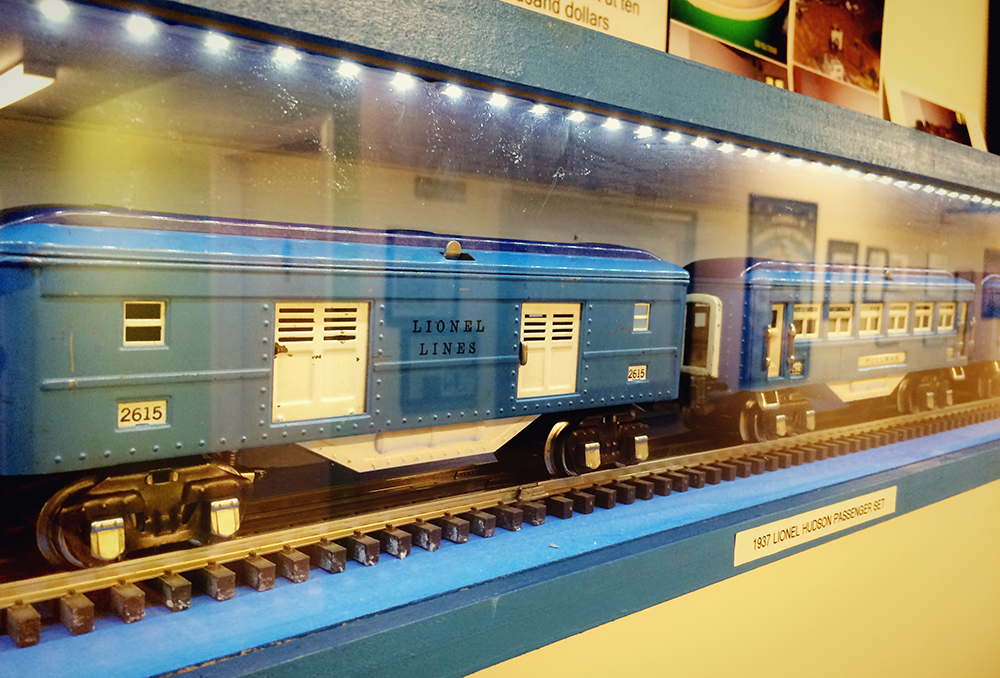 The grand kids were quite fond of the circus tent, show animals, and moving amusement ride miniatures.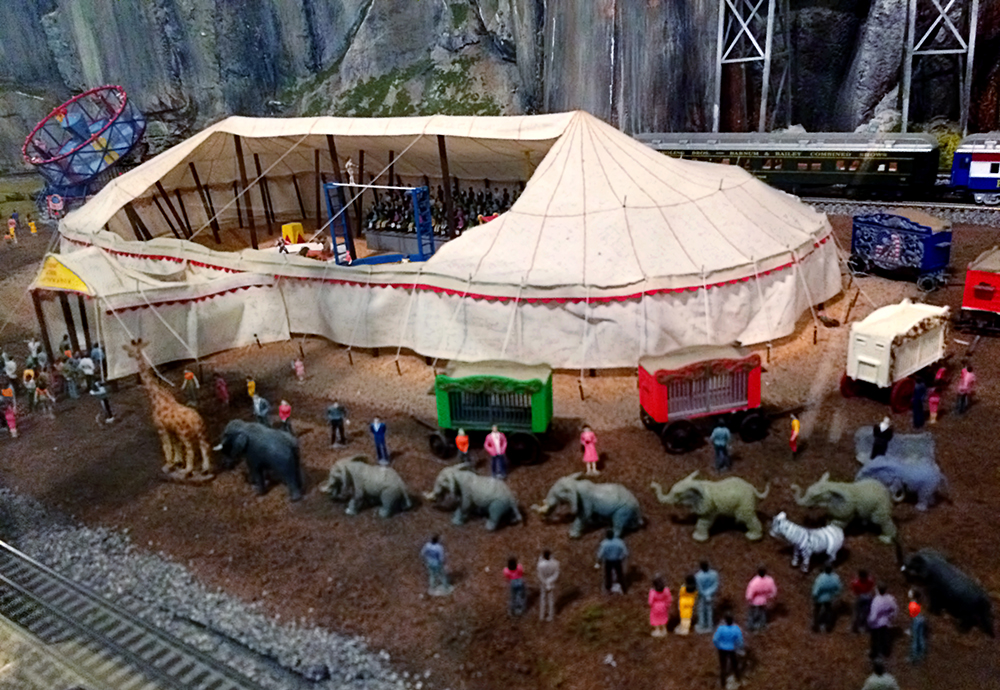 Being a professional musician I felt my husband would get a kick out of the guitar store…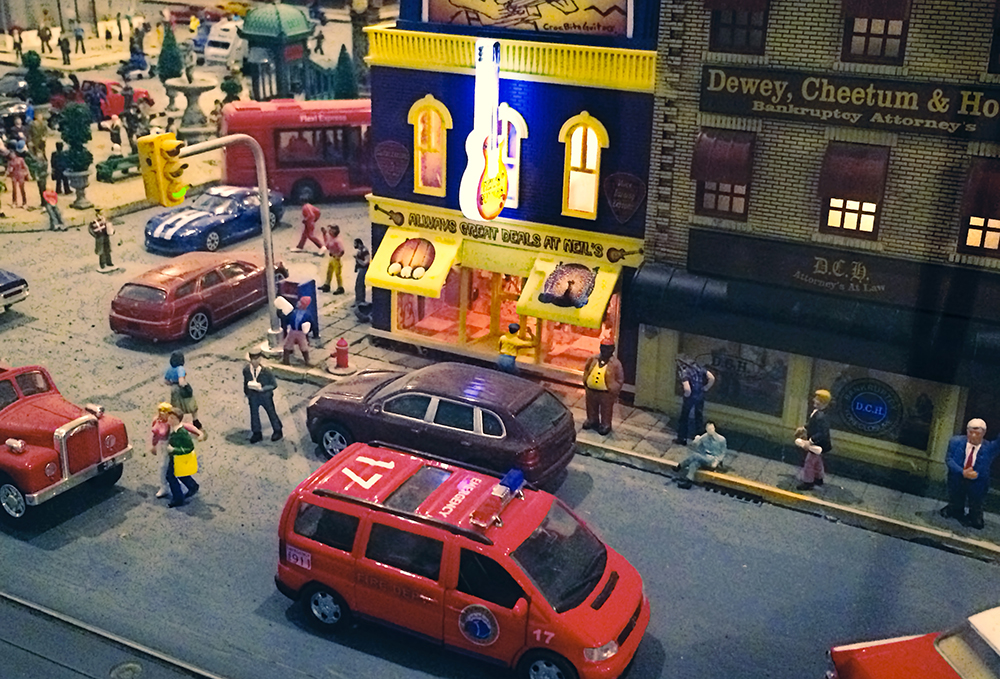 …and the jazz club seen below.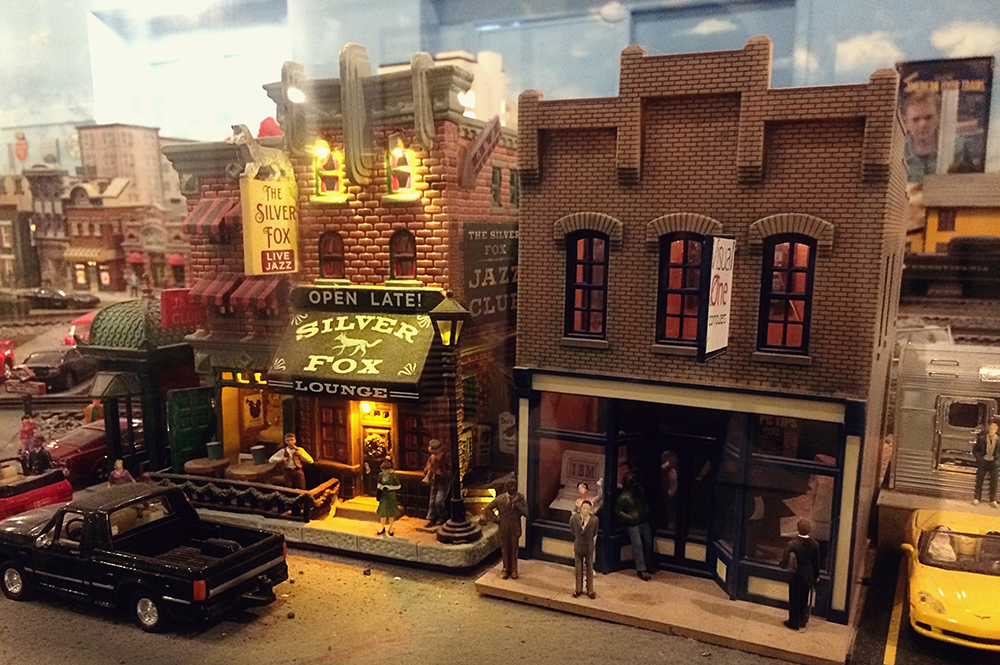 I spied a little hippie van just like the one that sits on my office shelf. It was parked in a scene right in front of 'Graceland.'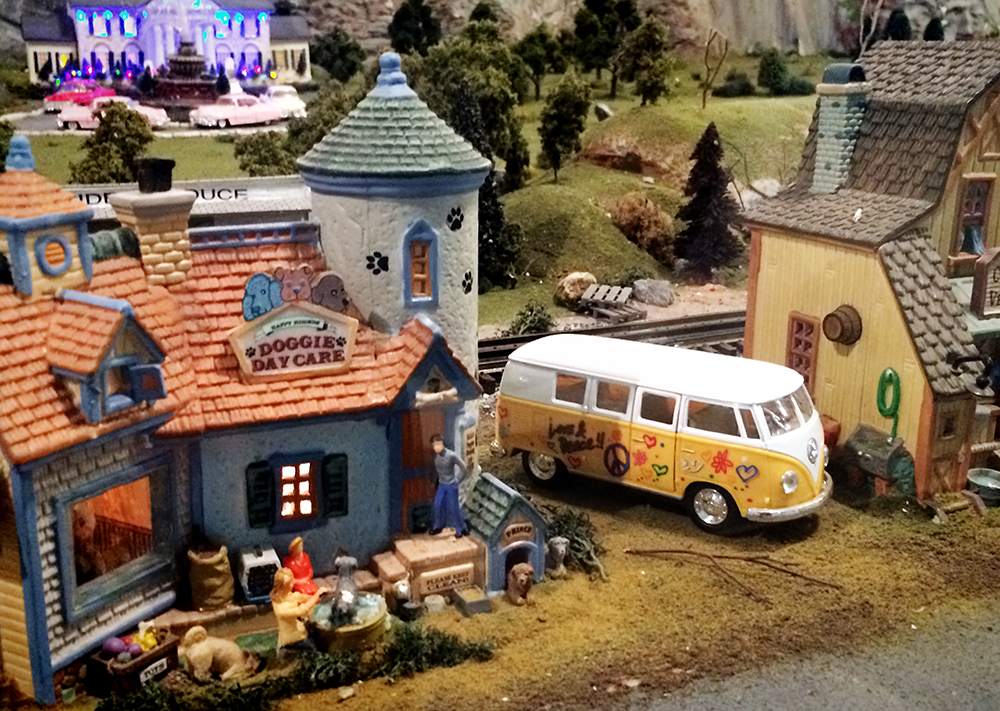 My grand daughter was excited to find 'Snoopy' within a layout.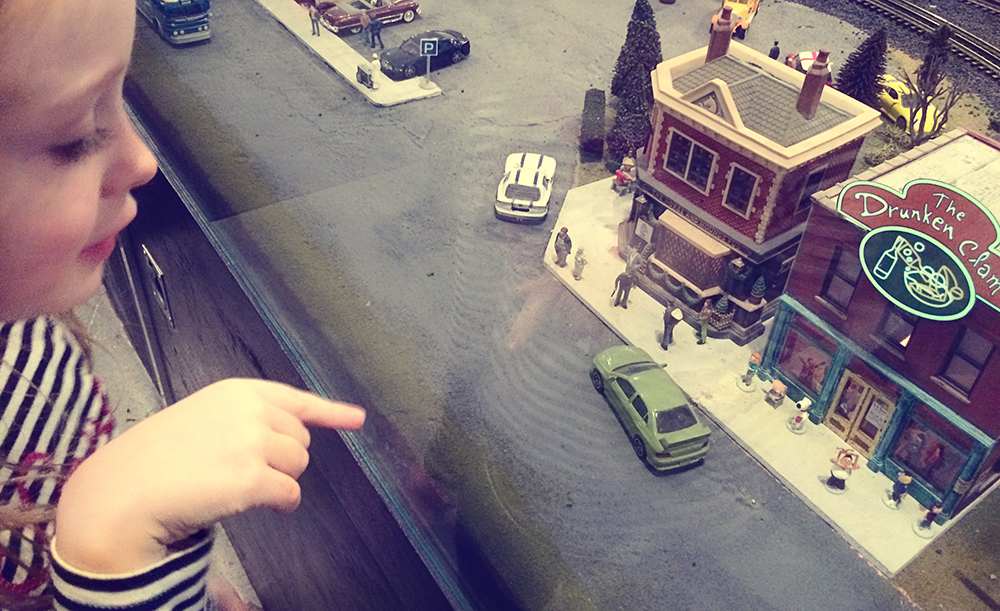 I imagine you could have a great time with a visual scavenger hunt game if you prepared ahead of time for your group. There is so much to look at and find within in every inch of space.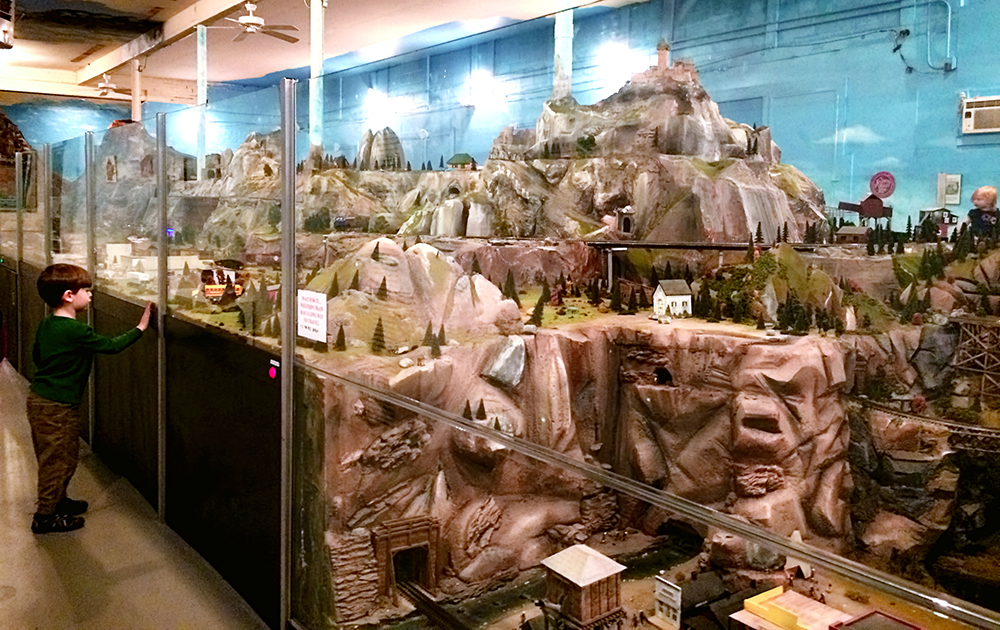 Our grandson happens to love trains. Being here was a magical realm full of imagination and dreams come true. And yes the popular 'Thomas' and 'Percy' trains that the children love these days can be found at 'Roads And Rails' too!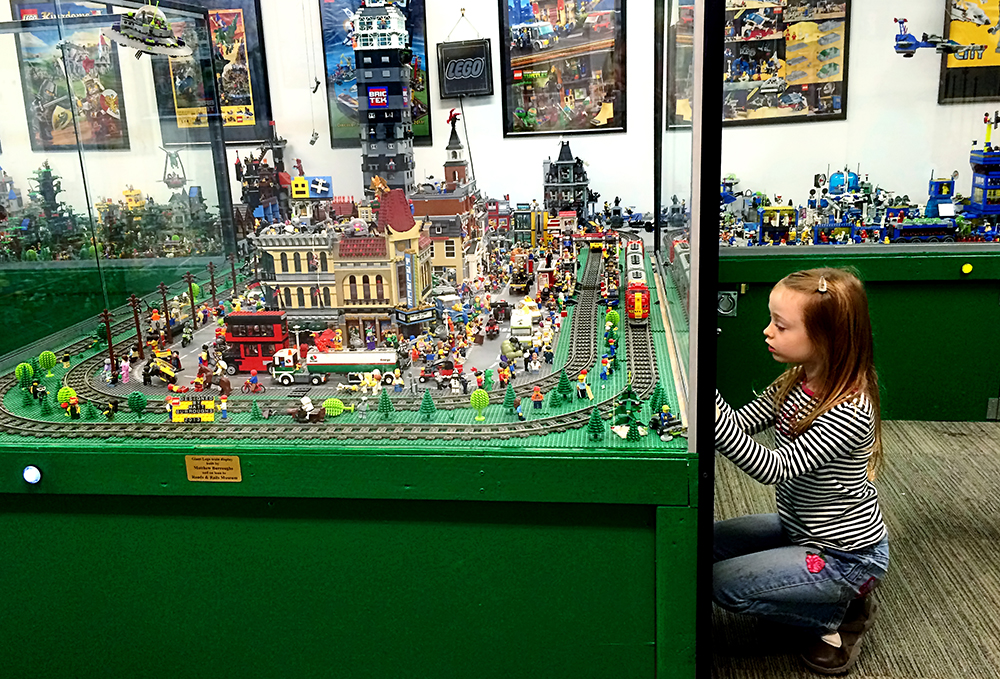 If all that is not enough of a profusion of trains for you… there is an amazing room with Lego layouts featuring an abundance of Lego people. Plus more buttons for the kids to push and enjoy!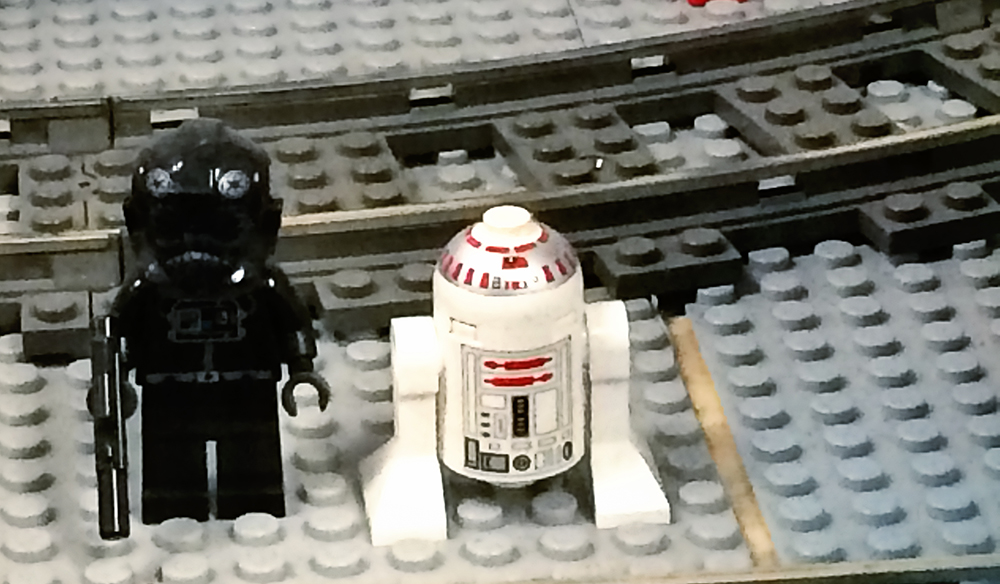 It was easy to spot some famous movie characters as well as fun futuristic movie cars!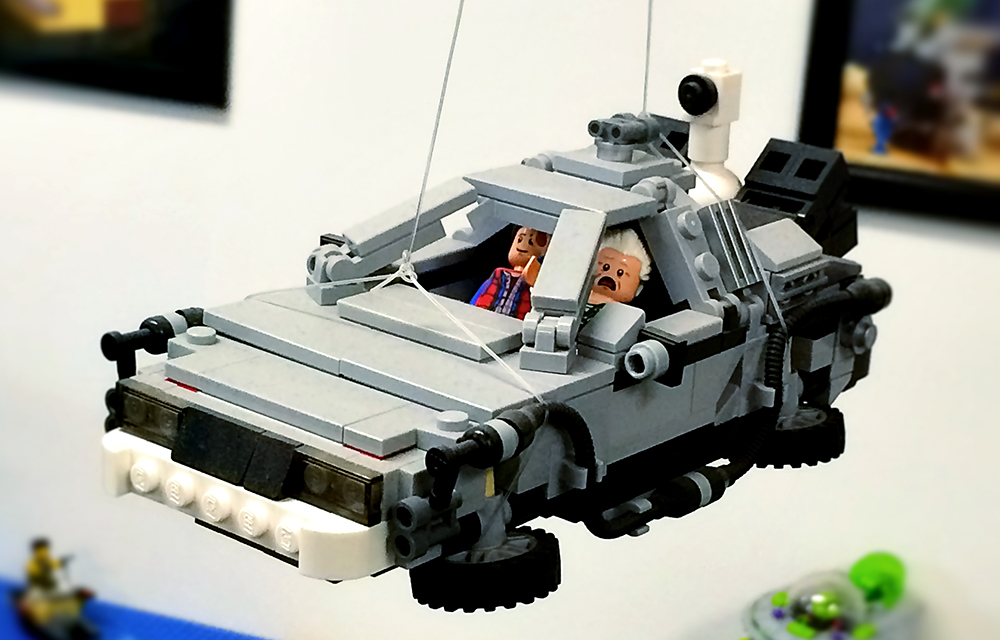 A Lego pirate ship with sea monsters was quite the spectacle. The large chart on the wall asks you to find all the Lego characters pictured. Oh my!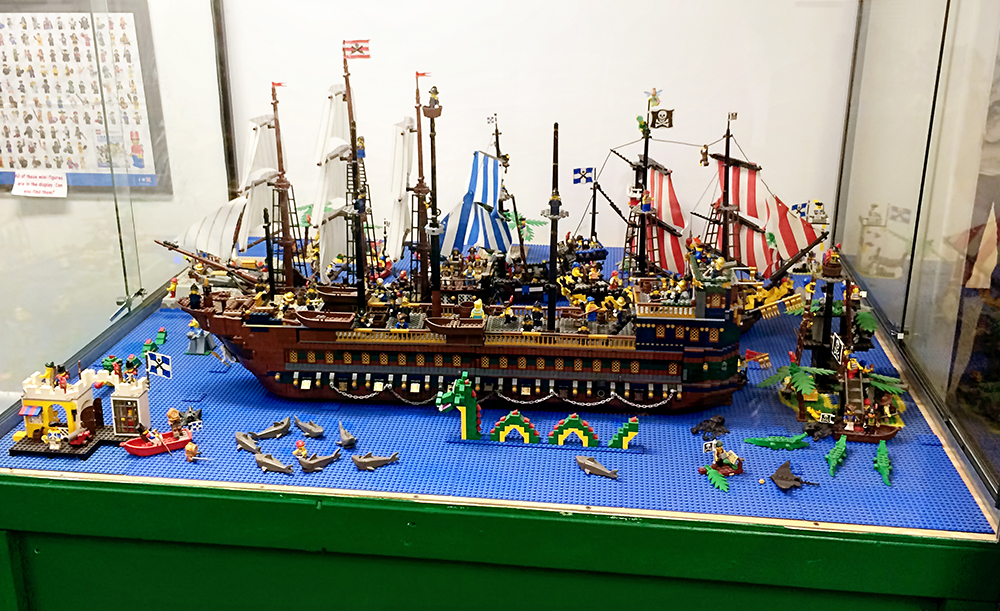 There is also a Lego spaceship with spacewalking astronauts that are setting up equipment. Are they spying on us?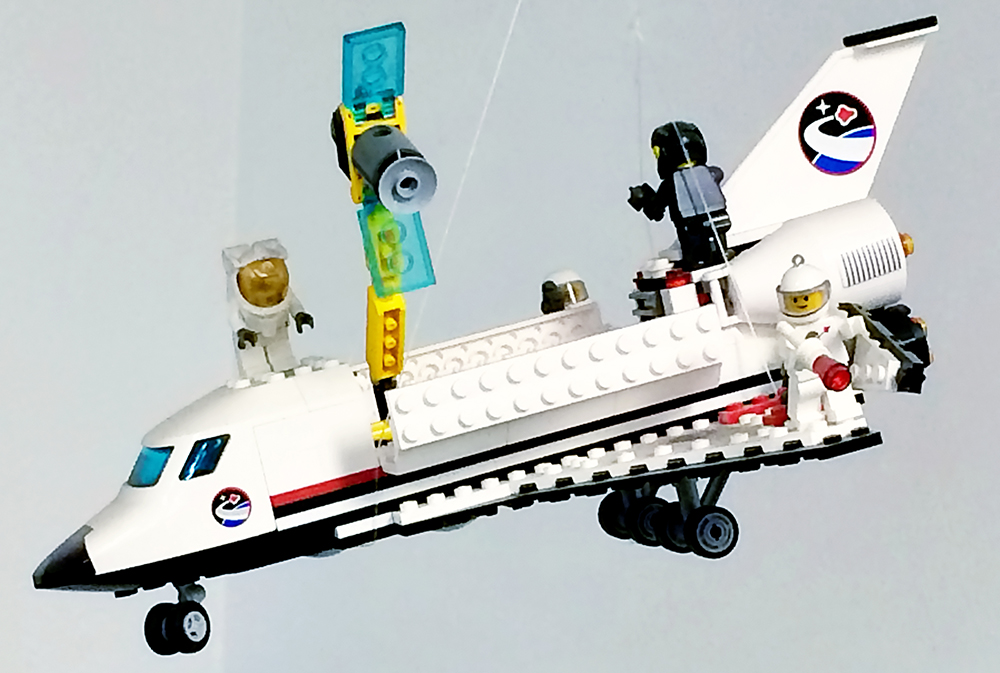 We ended the tour of the Lego room with a good long look at the Renaissance Castle layout complete with jousting knights.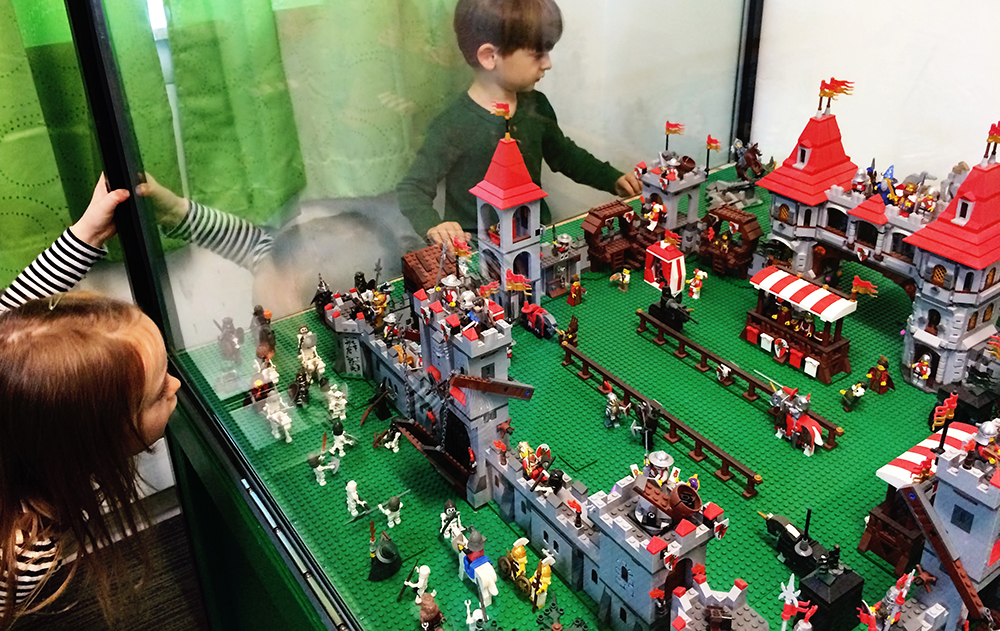 We really feel we got our money's worth in entertainment and family fun at 'The Roads and Rails Museum.' This is a great destination any time of the year! We highly recommend a visit if you have children or want to revive memories of the train layouts of your youth. We will be back again no doubt!
Cost: Adults- $10 (Includes Tax)      Kids-(3-11) $5 (Includes Tax)     Kids under age 3 admitted free.
Times of Operation: Monday 10am-5pm,    Friday 10am-5pm     Saturday – 10am-5pm,    Sunday – 12pm-5pm     Closed – Tuesday Thru Thursday
Location: 200 N. East St. Frederick, MD 21701
Phone: 301-624-5524      Email: roadsandrails@gmail.com
There is a small parking lot for museum guests, a gift area, and a separate room for children's birthday parties.
Hungry before or after your visit? No worries! We walked across the street for a variety of yummy choices at Pistarro's where they specialize in traditional Naples style wood fired pizza. Or walk one block down East Street as you pass by the charming shops of Shab Row and find 'The Frederick Coffee Co & Cafe' which sells great sandwiches, soups, desserts, and you guessed it… coffee. Another block down past the Everedy Square shops is the fantastic Ayse Meze Lounge Restaurant (our personal dinner favorite). On the corner of East and Church St. across from 'The Frederick Coffee Company' is 'Frederick Fudge And Ice Cream' shop. Across from them is the delicious vegan Glory Doughnuts (only open until 2 PM) on Church Street. Sometime in 2016 a new place called Good juju Juice Bar will open on E 2nd St. across from the entrance to 'Roads And Rails!' You are totally covered when it comes to wonderful food choices for your 'Roads And Rails' museum visit to Frederick, Maryland.