Happy Holidays In Downtown Frederick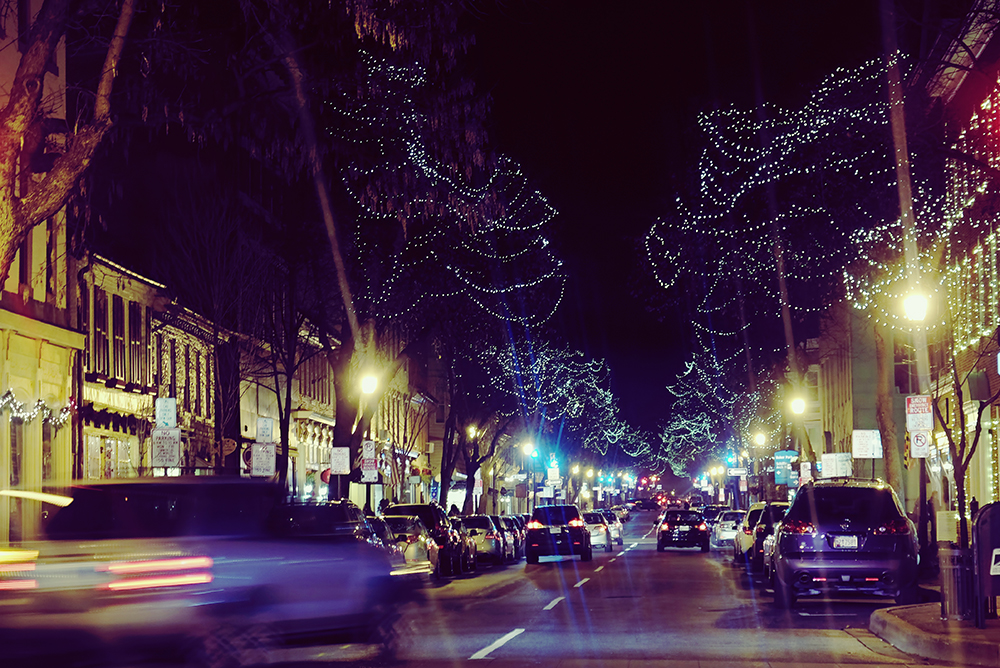 I love to drive through town during the Holidays In Downtown Frederick. Even when I did not live downtown I would make a point to drive along Market Street. Passing under the canopy of lights that extends north to south always brings me joy. The experience of living in this city surrounded by the many streets that come alive with sparking lights is enchanting! Frederick embraces the season in so many delightful ways. One is the old fashioned luminous decor you see everywhere day or night. So we're going on a little visual trip of 'Christmas In The City' to share this holiday season's jubilant Fredlandia vibe. A combination of festive lights, classic Victorian fresh greens, jolly red bows, creative window displays, merry front doors, happy little windows, and even a nod to those who have their own brand of funky holiday wishes during this season. Being an actual Christmas baby it's so cool that nearly everyone celebrates something! Let's go!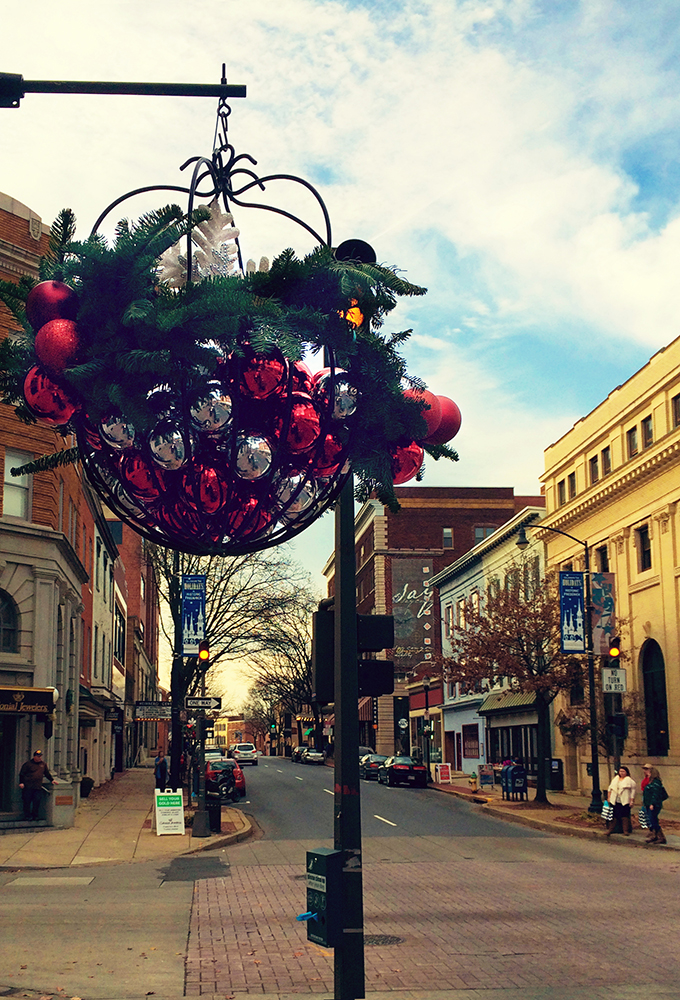 Oh by gosh by golly it's time to head into the center of town looking for mistletoe and holly. We see the large hanging iron baskets that are usually overflowing with flowers in the warm months have been transformed by volunteers from various civic groups and sponsors. Now full of cheery ornaments and snowflakes they are much appreciated by those of us walking through town on these balmy winter days. No snow glistening around here yet… although we are aware that Fredlandians can create their own winter wonderland. I hope I get to go to the Kris Kringle Procession next year when I'm not hindered by limping about with my cane! Sounds like a blast of old world holiday cheer. For a wonderful video of the local Holiday scene check out Celebrate Frederick's Facebook page.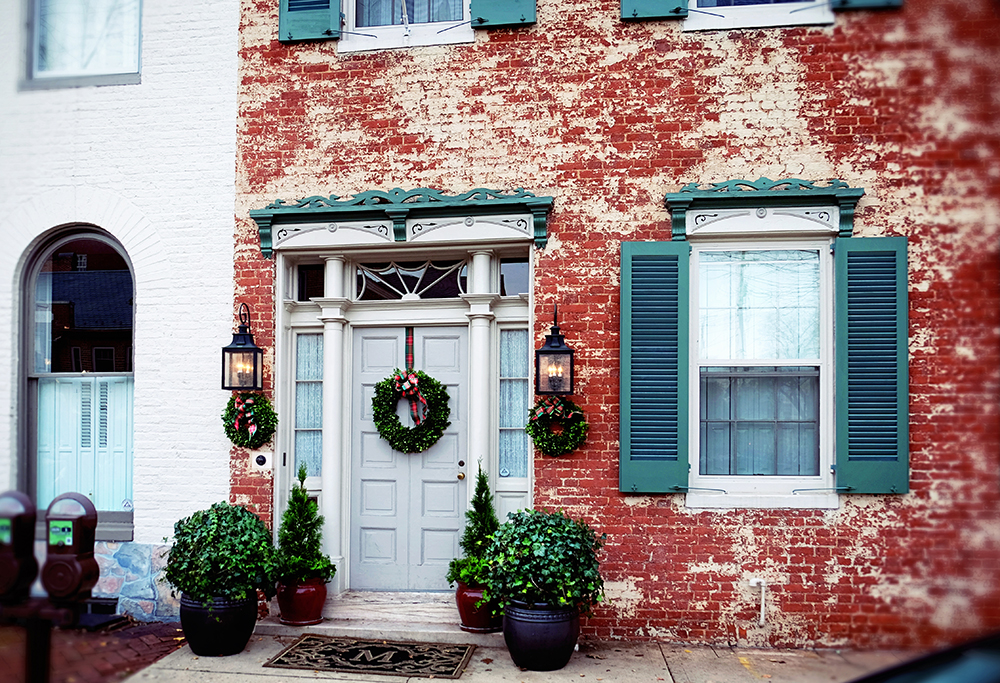 Time to check out some decor during the Holidays In Downtown Frederick. Such a grand entrance! This elegant trio of plaid bowed boxwood wreaths are the perfect touch for this unique door front. The shabby chic brick, the aqua trim, and gray pillared door really catches my attention. There are so many classic historic homes throughout downtown Frederick. View more of Fredlandia's lovely homes and seasonal decor in my post about the 2015 Holiday Candlelight House Tour.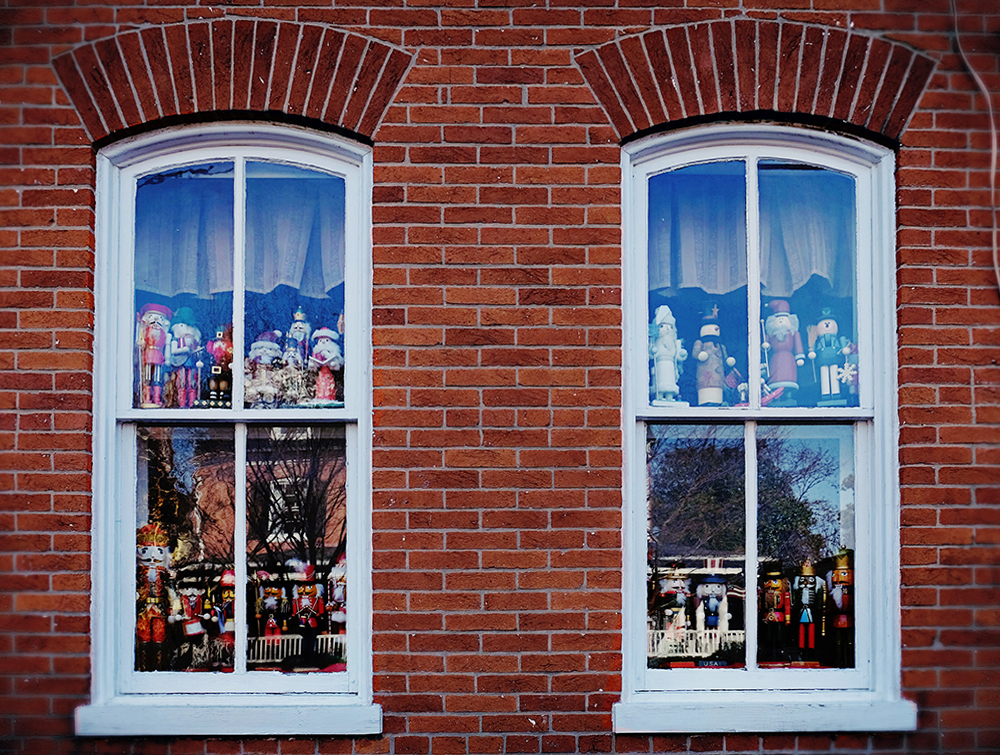 A  Nutcracker suite waiting on a wintery fairyland that has not yet arrived peers out from behind these undulating wavy glass windows. What a great collection!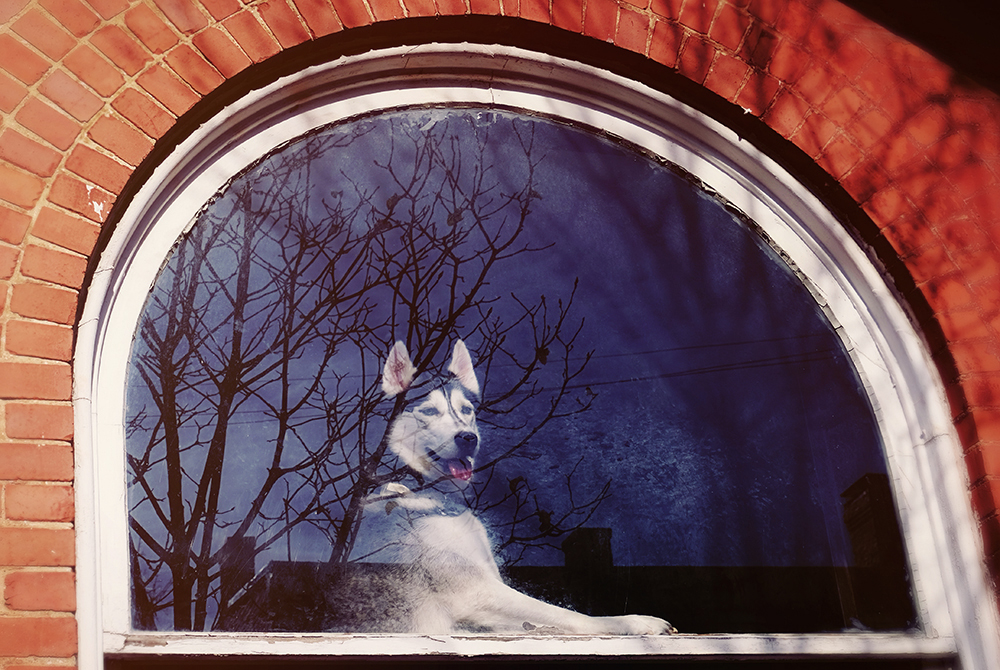 Sometimes what is peeking out from the windows might look right back at you! Nothing says winter's coming like a gorgeous friendly Husky! Sweet!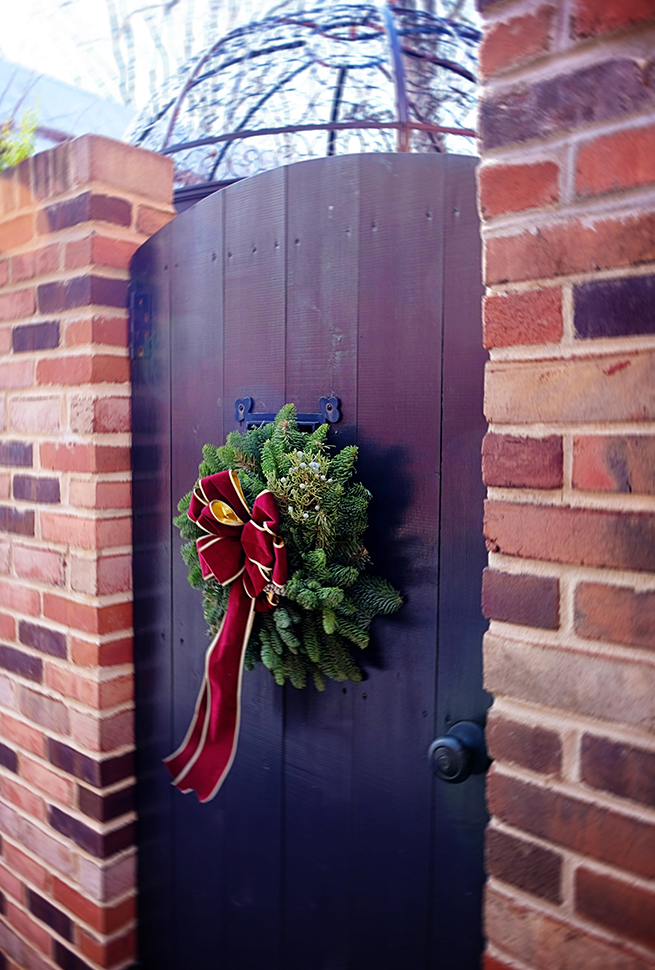 Lots of handsome gates to be seen throughout Frederick city. Even those found in the back alleyways are lovingly decorated with splendid holiday decor too.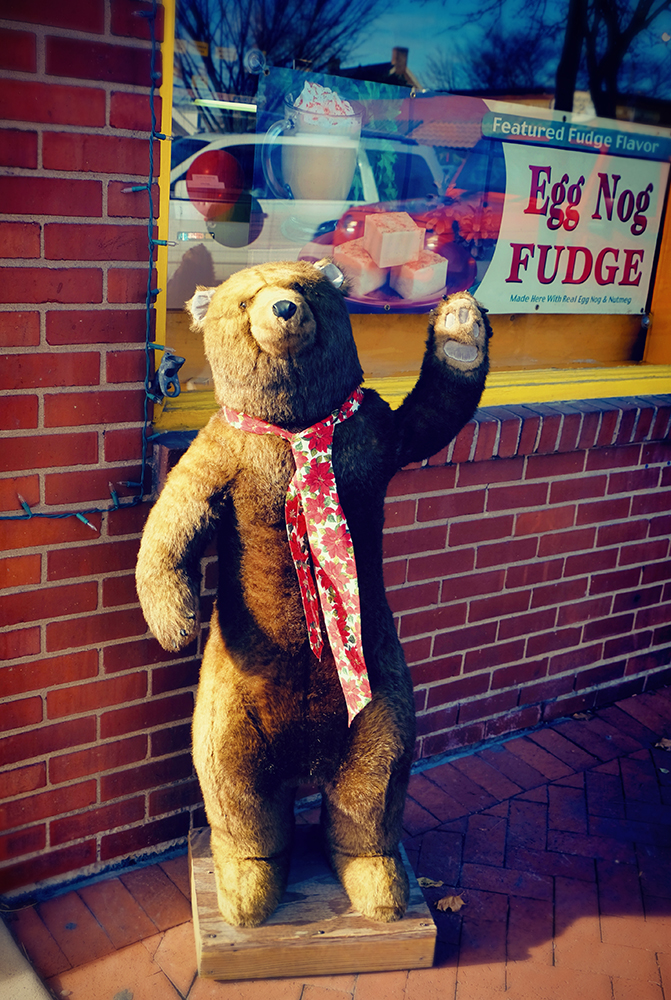 Frederick's Fudge And Ice Cream Shop's charming bear has his best red holiday tie on! He's only "dreaming" of a white Christmas since it's supposed to rain this year.
I really have a thing for all the amazing double doors downtown. This heavenly blue pair with marble steps is certainly one of my favorites. Love the berry and leaf wreaths too!
Along with wreaths and swags on doors, many homes during the Holidays In Downtown Frederick have their Christmas tree placed in the window for everyone to enjoy. Oh check out those stained glass transoms! Imagine what they look like from the other side! Exquisite!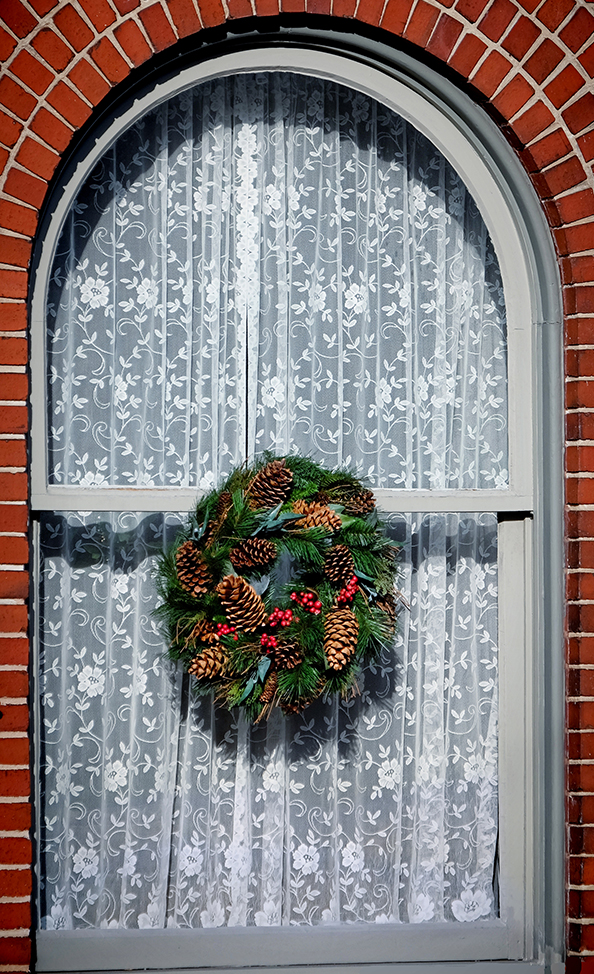 Another architectural theme I adore that repeats throughout Frederick is those arched windows and doors! A classic pine cone wreath sits on a lacy curved beauty.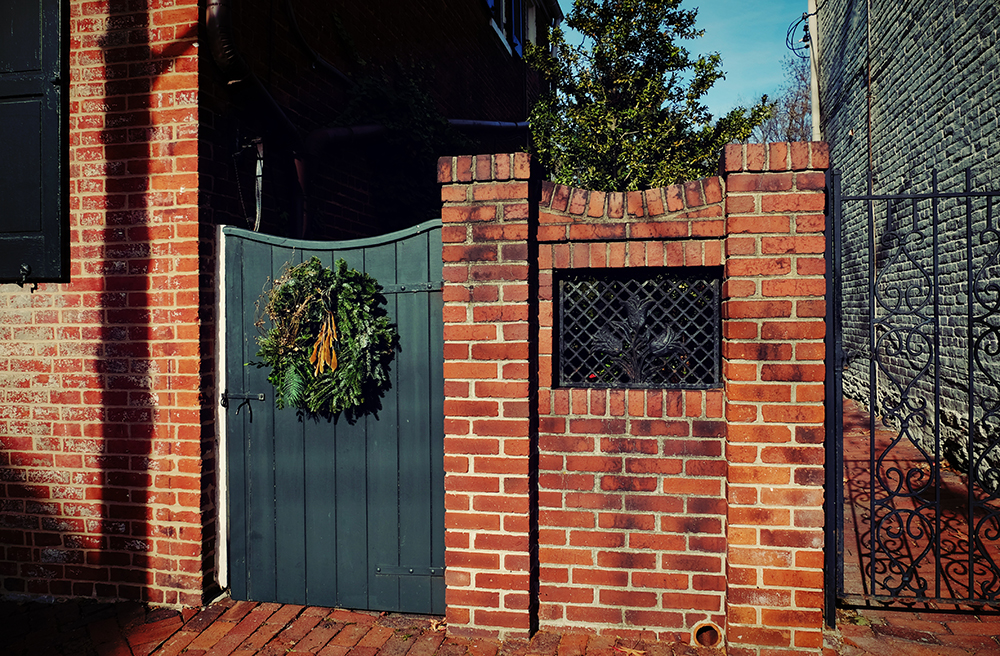 The marvelous ironwork and architectural details of this home's gated area are enhanced by this dried natural greens wreath.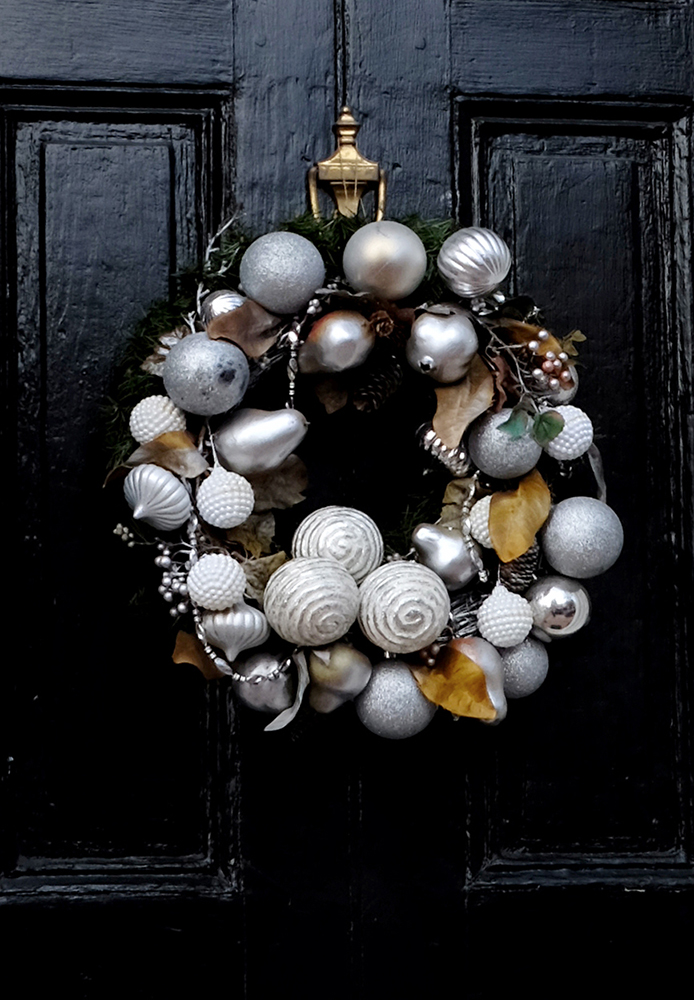 A dazzling silver wreath set upon this well aged black door is a sophisticated counterpoint.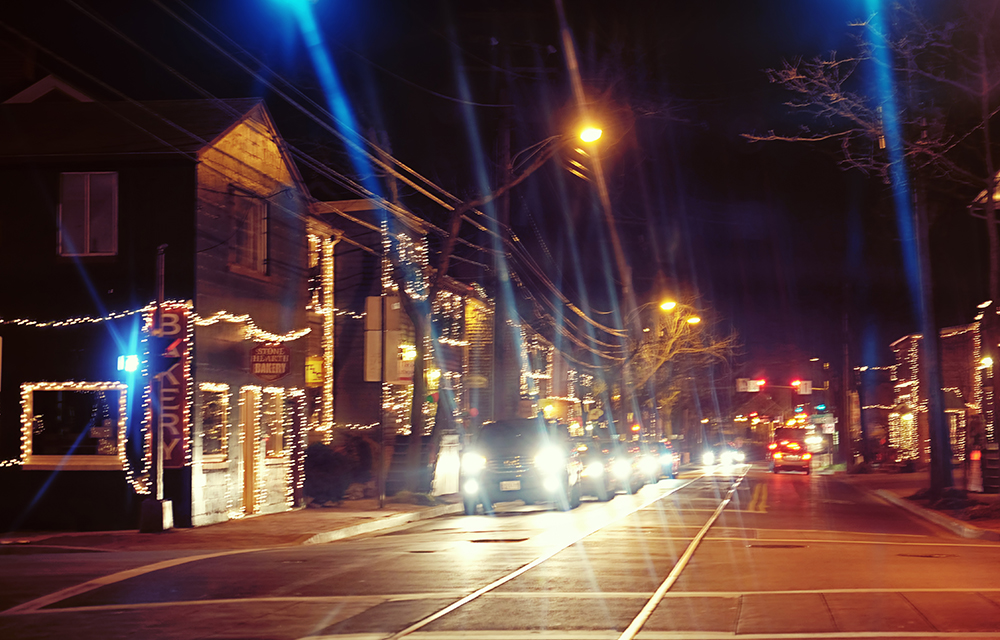 You have to agree when rocking down East Street at night along Everedy Square and Shab Row it's always a treat for the eyes. Glowing buildings outlined in glittering lights never disappoint.
Bravo to the designer of this store window for The Trail House located on Market Street! Everyone who passed by admired the camping inspired scene. Having been a visual merchandiser myself I respect the thought and time that went into putting this clever idea together.
Holidays In Downtown Frederick is also well known for all the many beautiful churches and spires. I just had to include this red Gothic beauty bedecked in nature pine wreaths.
Here's looking at you Santa even if you do look rather trippy in that wavy antique glass.
Perfect light shined upon these double doors creating seasonal tidings of comfort and joy.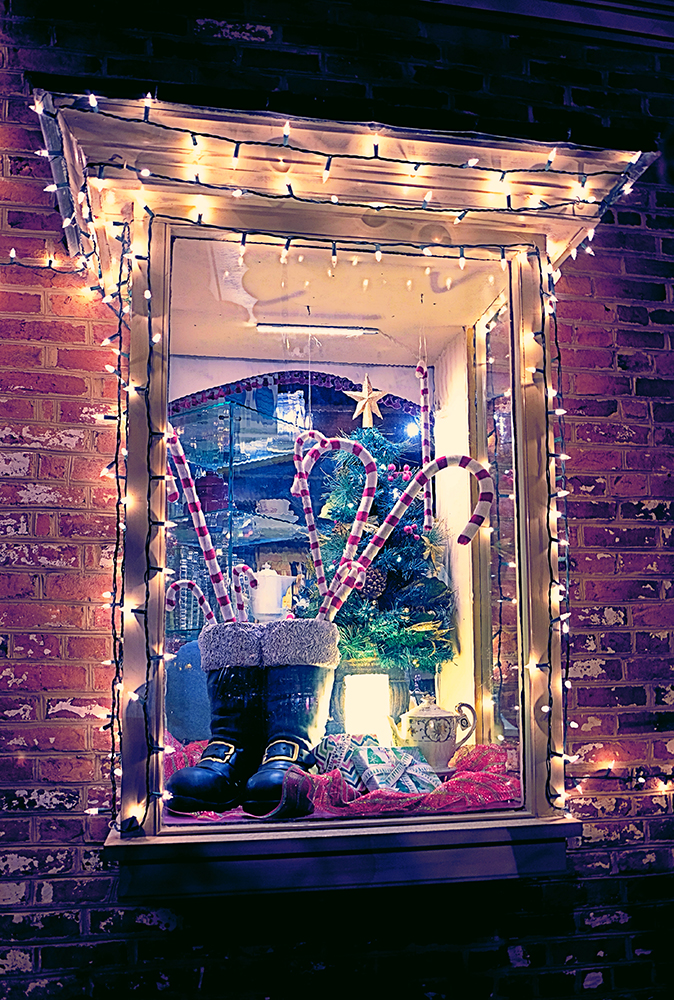 Found Santa's big old boots! A thoughtfully created display by The Shab Row Tea Emporium shop.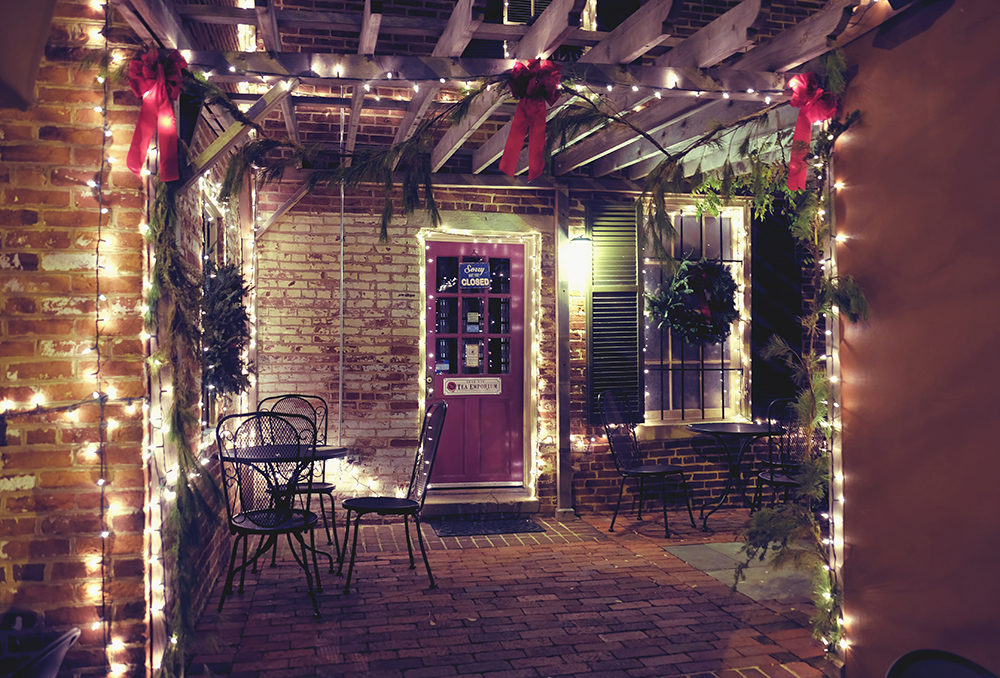 A shared space between the Shab Row Tea Emporium and Frederick Coffee Company is decked out in inviting fresh greens, lights, and red bows. Quite a little holiday wonderland just right for late night sipping during the recent mild December nights. Let's get together for a chat and chew!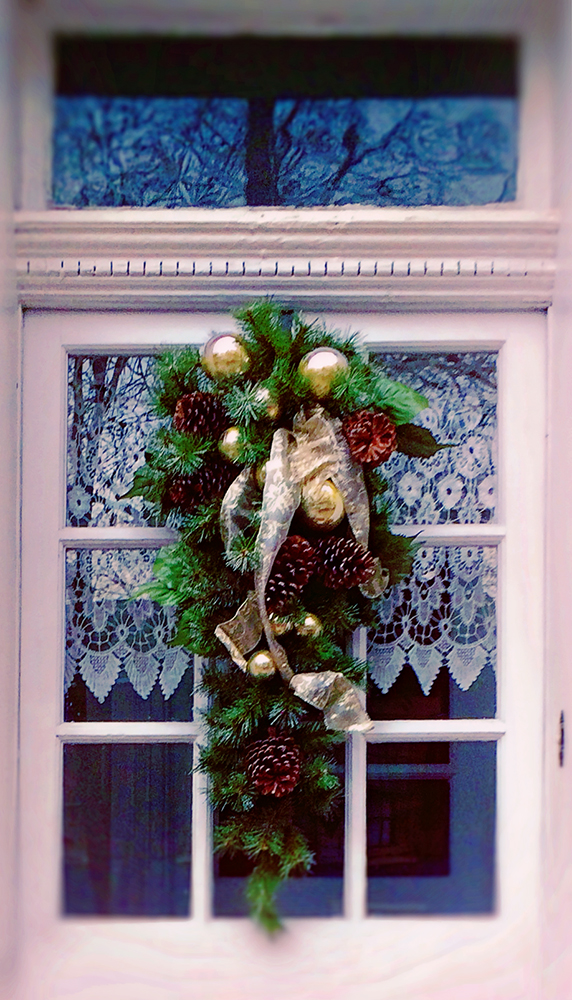 Old fashioned lace window treatment spruced up with an evergreen and gold ribbon swag.
A frosty looking snowman on East Street frolics in the midst of lacy looking handmade snowflakes. Very nicely done.
Ahhh! Black beauty double doors with an arched transom! Love.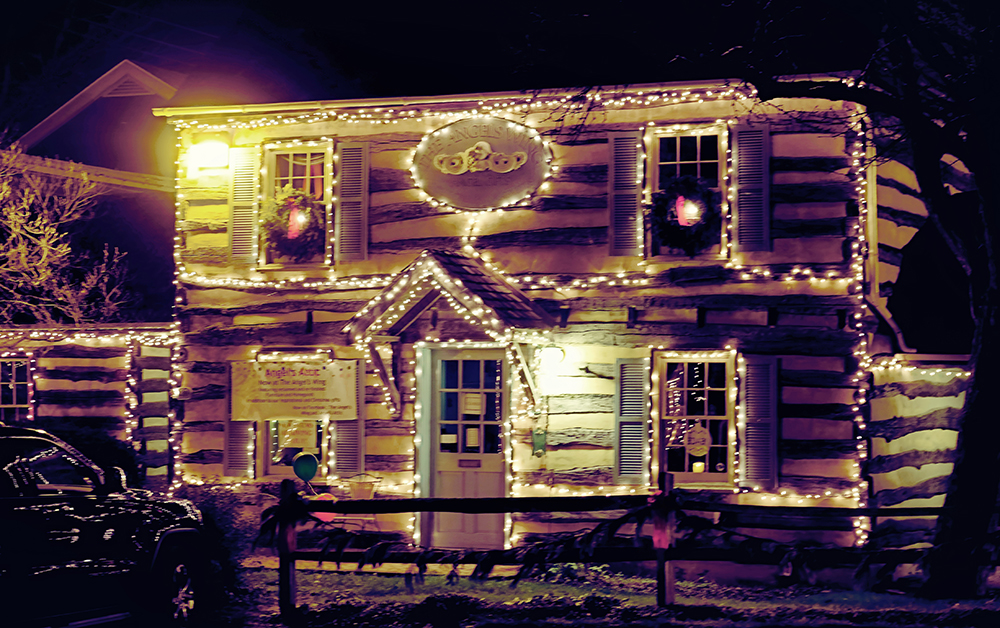 Crazy over the charming shimmering log buildings in Shab Row. Even the backside of buildings have lights making a lowly rear parking lot look good. It's magic!
Snazzy vivid blue door meets big happy wreath dotted in shiny baubles. Very welcoming!
These nighttime windows glow resplendent in the light of two dazzling Christmas trees. A visual delight for the neighbors I passed outside of this historic Frederick home.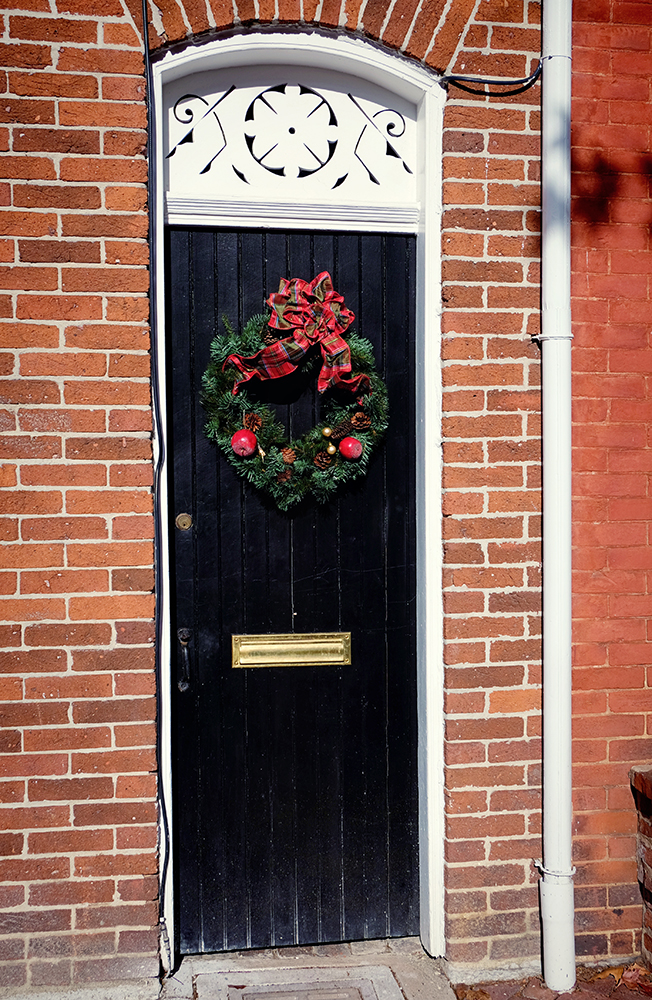 I am loving the decorated skinny alley gates and doors in historic downtown Frederick too. This chic black one has an attractive cut out detail above the cheerful red and green wreath.
Holidays In Downtown Frederick find us gleefully sitting at the light of East and Church Street admiring the delightfully trimmed buildings which light up the night.
A window in Fredlandia wishes everyone a very unique greeting of the season.
Nothing says "Merry Christmas" like Darth Vader. May the force be with you so you can go forth and make merry. Movie anyone?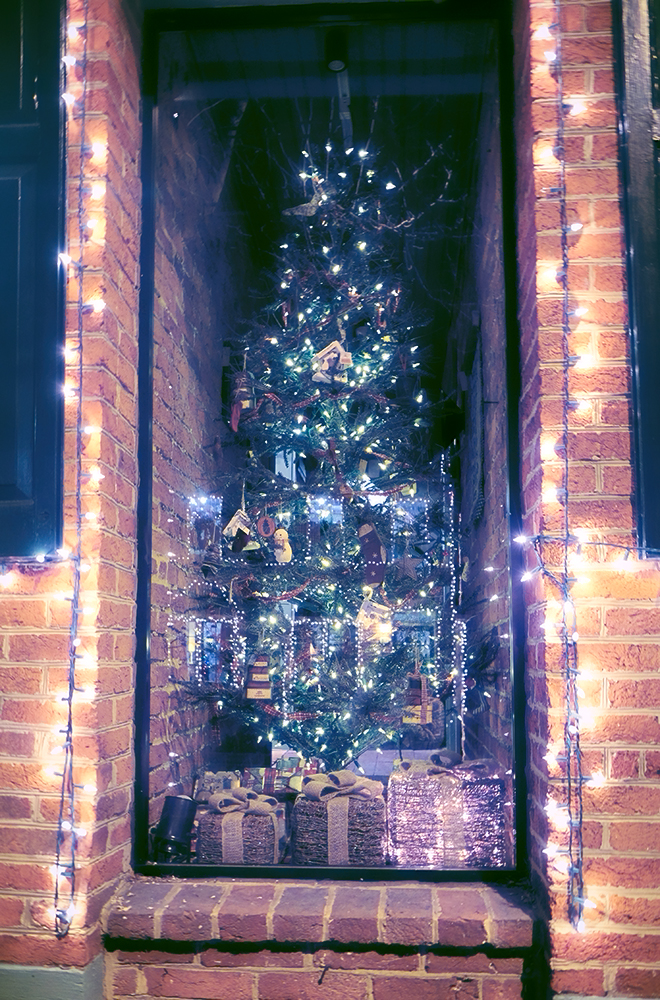 Narrow fit! Someone squeezed this skinny tree within the walls of the Shab Row shops.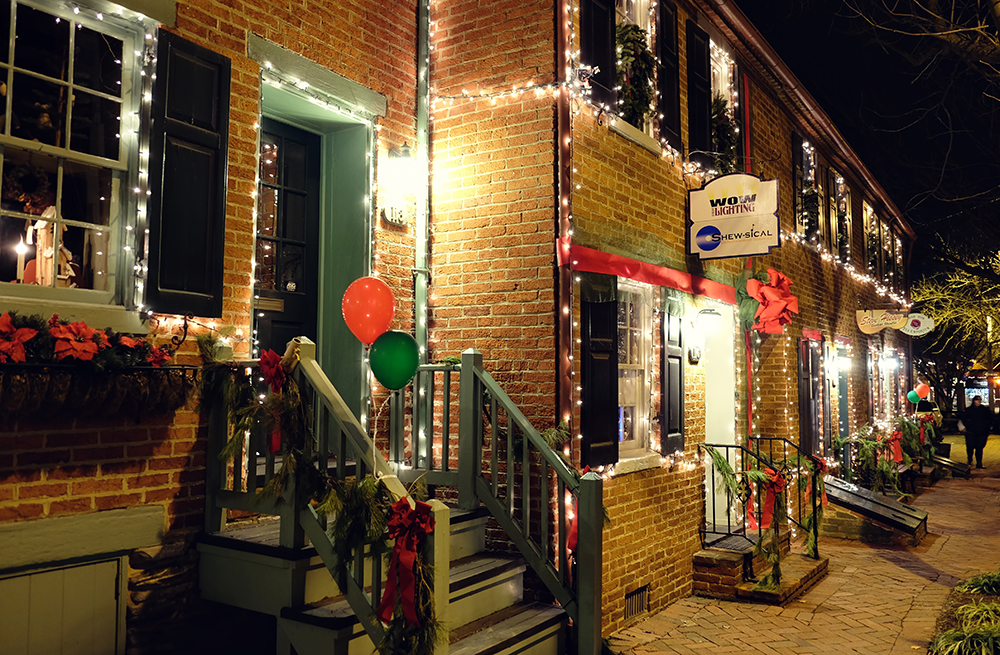 We continued strolling Shab Row's brick sidewalk along the quaint old buildings, fragrant fresh pine boughs, poinsettias, and big red bows that drip from the stairs. Are you hungry yet?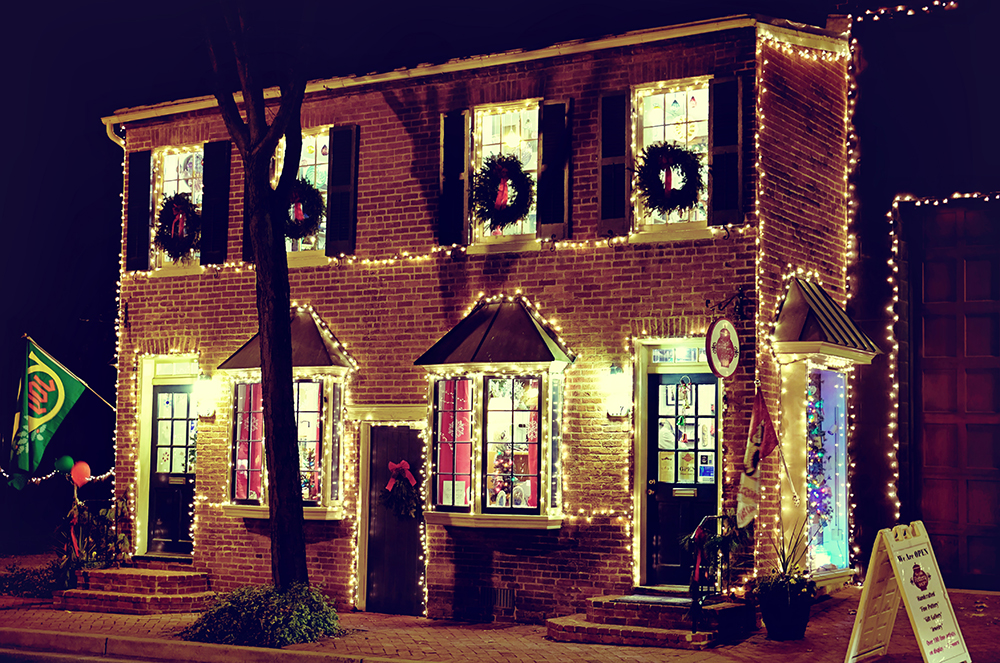 We hope you enjoyed this trip around town. It is only a small part of what can be seen and experienced during the Holidays In Downtown Frederick. Since this year I'm still only getting about with a cane I have not gotten to see and do everything. This is only our First Christmas together in Frederick so more is to come! Now I am quite hungry. Let's get a veggie burger. Enjoy your holidays whatever they may be! Wishing you much Love and peace. I'll be home for Christmas Fredlandia!